Khloé Kardashian is almost 7 months pregnant, and she's not shy about her changing body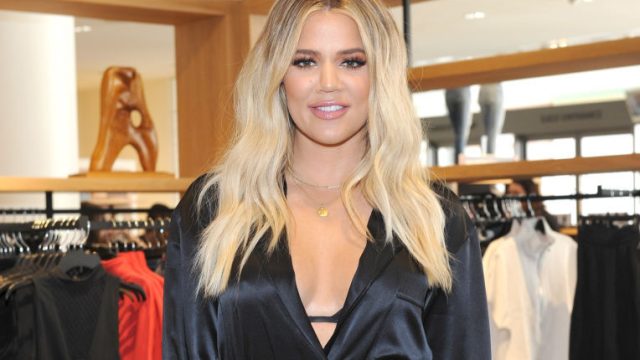 It seems like all anyone can talk about is the Kardashian pregnancy craze. But can you blame us?! There is just so much to talk about. Kim Kardashian and Kanye West recently welcomed their third child via surrogate. And while we still try to figure out whether Kylie Jenner has a baby bump or not, we at least know for sure that Khloé Kardashian is pregnant. Koko is expecting her first child with NBA star and boyfriend Tristan Thompson, which she confirmed back in December of 2017.
When Khloé Kardashian announced her pregnancy, we weren't sure how far along she was. Rumors and fan theories were everywhere, but we didn't know when she would announce her due date. (Let's be honest, it's all probably up to Kris Jenner.) For a while, it was widely assumed that Khloé was not as far along as her sister Kylie. But since we knew next to nothing about Jenner's rumored pregnancy, that certainly didn't provide much information. Trying to figure out the Kardashian-Jenner world is truly like a geometry problem.
But then, on Christmas Day, Khloé blessed us with the greatest gift of all. When a fan asked how far along she was, Kardashian tweeted her due date. Well, sort of. She tweeted that she was nearing the six-month mark.
Then, on Saturday, January 27th, Khloé Kardashian confirmed she's almost seven months pregnant.
Leave it to good ol' Koko to help us out yet again. She also shared details about her changing pregnant body.
Kardashian answered a lot of fan questions on Twitter in the past day or so, hitting on everything from when she's due (April) to how she feels about her body. Over on Instagram, she has blessed us with many adorable pregnancy pictures, and on Twitter, she blesses us with conversations about it.
After being criticized for tweeting about stretch marks, Kardashian reassured everyone that she is very much embracing her body's changes.
It's no surprise that Khloé Kardashian is being super candid about her pregnancy.
It's nice of her to let fans in on her excitement, tweeting about everything from her stretch marks to her baby kicking.
We can't wait to "meet" the little babe in April!