Kheris Rogers, the 12-year-old clothing designer behind "Flexin' In My Complexion," talks to us about her anti-bullying web series and staying confident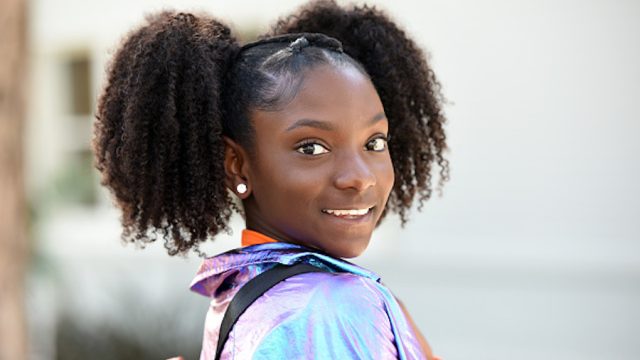 "Can a 10-year-old break the internet?" This is the simple question posed on Kheris Rogers's Twitter profile, along with a set of four stunning photos. The answer is certainly yes, as the post was retweeted 84,000 times and liked nearly 200,000 times.
Kheris Rogers first made headlines after getting the attention of Alicia Keys. But for what? For flexin' in her complexion. Rogers was bullied by peers for her dark brown skin. She was only one of four Black children in her class and she has said that other students wouldn't even play with her. Instead of letting the hate harm her, she recited affirmations to herself and started using the term "flexin' in my complexion." The phrase blew up, becoming a slogan for Black girls (and women) everywhere. Rogers put the statement on a shirt for her own clothing line, which has since been rocked by Lena Waithe, Whoopi Goldberg, and Lupita Nyong'o. Kheris is also the world's youngest NYFW designer.
Always busy, Kheris is now hosting her own show on SoulPancake, "Beyond Bullied," where she encourages other young people who have been targeted by bullying to stay strong. She hopes to let people know that they are not what others say they are; instead, they are what they feel.
We spoke with the young entrepreneur about her experience working on a digital series, and how she overcomes bullying.
HelloGiggles (HG): What has it been like participating in a digital series?
Kheris Rogers (KR): It's been awesome being part of a digital series because I get the link and see myself on YouTube.
HG: And what was the start of this process like? Did SoulPancake reach out to you, or did you have the idea and reach out to them?
KR: SoulPancake reached out to us maybe a couple months ago. And when they first reached out, I was like, "Oh my gosh. I've heard of SoulPancake. This is awesome."
HG: How exactly did you get past bullying? When I was your age, I was bullied as well, and I really didn't know how to turn that around until I was in high school. How did you move forward?
KR: My mom helped me first. She kept telling me powerful words. When kids started messing with me, I started telling her what was going on…I started watching YouTube videos on people who were being bullied that have overcome that, and they said that they used to look in the mirror and tell themselves, "I am beautiful. It doesn't matter what other people think about me. It's what you think about yourself." And "flexin' in my complexion," something that my grandmother used to say, really made me overcome being bullied. false
HG: So "flexin' in my complexion" went super-duper viral. How has your life changed since then?
KR: My life has changed completely. I was featured in  LeBron James' new campaign. That was pretty awesome. And now I'm with SoulPancake; that's pretty cool too. 
HG: What do you like to do for fun?
KR: What I like to do for fun is go play outside with my friends, go skating, and trace on the computer. And just to hang out with my family.
HG: How does your family feel about all of your success and the love that you're getting?
KR: My family is excited. They're thankful that I'm doing this and that I keep inspiring people.
https://www.youtube.com/watch?v=m7SfWqJMASg?feature=oembed
HG: What is a message that you would like to share with your peers?
KR: The message that I would like to share with my peers is that you should never let anyone bring you down because they're just messing with you so that you can feel bad about yourself. Just know that it doesn't matter what other people think about you. You are beautiful, smart, and creative.
HG: Is there anything else about the series that you'd like to share?
KR: It's different than any other series that you would normally see on TV, like reality TV shows and dramas. This is about inspiring other people, and hearing their stories, and just to let people know that you're not alone, and that you aren't the only one going through this.
Go to SoulPancake's YouTube channel to see more episodes of Beyond Bullied. This interview has been edited for length and clarity.