KFC's new sunscreen will keep you smelling, not feeling, extra crispy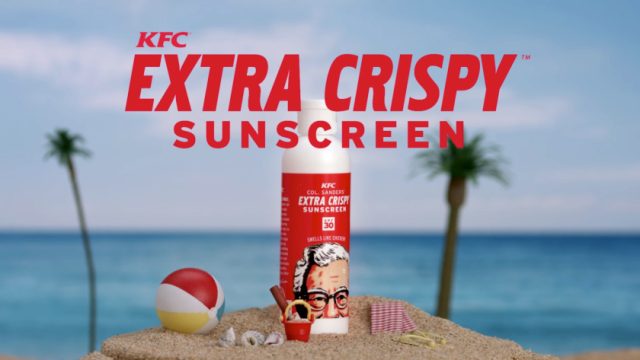 If the traditionally tropical scents of sunscreen (coconut, pineapple, banana, mango) are just too basic for you, KFC has you covered — literally. After a successful foray into beauty earlier this year with their chicken-flavored nail polish (released only in Asia), the brand decided to launch chicken-scented sunscreen.
Yes, you read that right. They just released a limited edition sunscreen that smells like fried chicken. Specifically, their "extra crispy" recipe.
"We've had a lot of fun with our Extra Crispy Colonel campaign this summer and the sunscreen idea seemed like a natural fit," a KFC spokesperson told Fortune. "Our chicken is hand breaded and freshly prepared in our kitchens all day every day, which makes the smell in our restaurants unparalleled. The Extra Crispy Sunscreen is a fun way to leverage that with our fans."

As such, the fast-food chain unveiled ExtraCrispySunscreen.com earlier today, where U.S. residents could sign up for one of 3,000 bottles of Col. Sanders' Extra Crispy Sunscreen SPF 30. "Protect your skin… with fried chicken!," touts the website.
It was first come, first serve and the supply has already been depleted. Guess there's just that many people as curious as we are. The website now features a cheeky message saying "This was a limited time offer and we ran out of KFC Extra Crispy Sunscreen. Please accept our apologies in the form of this amazing website you can still look at."
Truth be told, the website is pretty amazing to look at, featuring colorful, hi-res photos of notoriously crispy George Hamilton dressed up as a very, very tan version of Col. Sanders.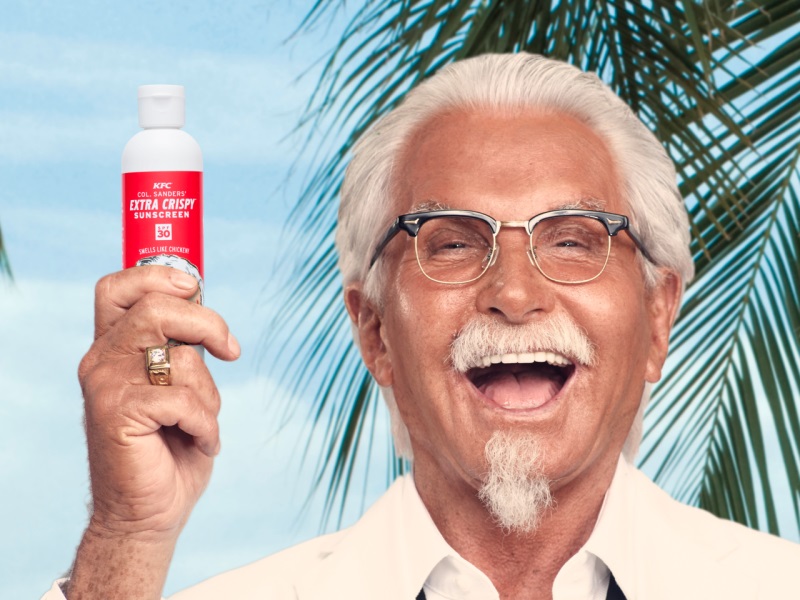 We definitely can't wait to see all the tweets and IG posts when people actually receive theirs in the mail. The brand stresses that the sunscreen is not edible, but we have so many questions. What does it actually smell like? If we wear it, will people try to eat us? Is it vegan?
I wrote that last one as a joke but now I'm actually curious what's in it. I'm also thinking that the smell of crispy fried chicken might actually remind you to not stay out baking in the sun and actually inspire you to apply more sunscreen, as most people don't wear nearly enough. Maybe it's because of the normally beachy scent of sunscreen, or as the commercial below says, the "lotion scent of sunscreen lotion". https://www.youtube.com/watch?v=NVuNcDOZGlA
The company doesn't currently have plans to to make the product available for purchase nor do they plan on releasing more bottles on their website. However, we are at the end of summer, and they haven't said whether or not they might be re-releasing it for Summer 2017. We'll cross our fingers (maybe?!)