There's a KFC scented candle so now your home can smell like fried chicken 24/7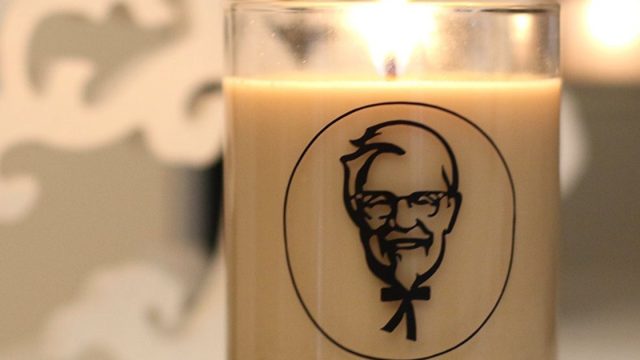 Given that the smell of freshly fried chicken might be the greatest scent to every grace this earth, KFC has released their own scented candle so that your home can smell of Kentucky Fried goodness 24/7.
Over the last year, KFC has rolled out a few…unusual products. Firstly they announced their own range of edible nail polish so that you can always be finger lickin' good, and to celebrate their extra crispy range the fast food chain also released a sun screen scented with fried chicken (it was SPF 30 though, so you probably wouldn't go too crispy).
However, while we're still getting over the incredibly relatable moment that this woman sued KFC for $20 million because her bucket wasn't over flowing with chicken like in the commercial, the fast food giant has attempted to placate some of the backlash with their own candle.
Currently, it seems, the limited edition candle is only being rolled out to New Zealand customers. Combining a unique blend of 11 herbs and spices, the candle isn't actually available for sale, either. Rather, fans of chicken have the possibility of winning the unique (but totally essential) home comfort item by suggesting other products that KFC could potentially branch out into selling.
Suggesting different products in the comments section, some called for a KFC lip balm (amazing), chewing gum, potato chips (THIS NEEDS TO HAPPEN), scented Christmas cards, shampoo, a bucket hat (get it?), deodorant, various wing shaped phone cases, bags, and toys, and one person even suggested a KFC themed guitar.
Currently, there doesn't appear to be any plans to roll out the fried chicken scented candle to other territories and to make the product available to buy, but we're sure that demand will be high. Seriously, who wouldn't want their house to smell like that delicious blend of 11 herbs and spices all day long?