Someone made a "Kevin from The Office" Halloween costume for babies, and it's genius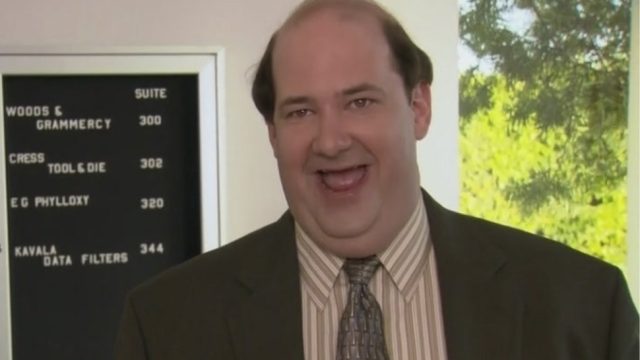 Though the series ended five years ago, our love of all things The Office-related lives on. From The Office! A Musical Parody, to a recent auction for The Office superfans, fans continue to clamor for anything involving their favorite Scranton branch.
But if time spent watching endless reruns simply isn't enough to quell your Office thirst, look no further than this "Kevin from The Office" baby Halloween costume, which turns your toddler into everyone's favorite bumbling accountant. Sure, you could dress your kid up as a pumpkin, or a black cat, or a tiny baby witch, or you could make your famous homemade chili and really get creative this October 31st.
Instagram user Adam the Creator has been posting a series of Amazon listings featuring hilarious baby Halloween costumes—from a Cardi B-inspired look to a UFC fighter getup—but fans of The Office can't get over his "Paper company accountant spilling a pot of chili" costume. The post has racked up so many likes that it got the attention of Jenna Fischer (aka Pam Beesly Halpert), and then Brian Baumgartner (Kevin himself), who called it "every infant's dream costume."
Not only does the costume come with Kevin's signature brown suit and comb-over hairstyle, the baby accountant has also spilled his pot of chili. Unfortunately for fans, this costume doesn't actually exist on Amazon, and was merely created using some expert photo editing skill. That said, it wouldn't be too difficult to recreate the look for your own baby if you're still in need of the perfect costume.
If you're more of a Battlestar Galactica fan, Fischer also shared this hilarious baby Dwight K. Schrute costume back in 2016, and yes, his signature glasses and center part are included. All you need are the beets and you're good to go.
Happy Halloween.