This is the one shot in "All the Money in the World" where Christopher Plummer didn't replace Kevin Spacey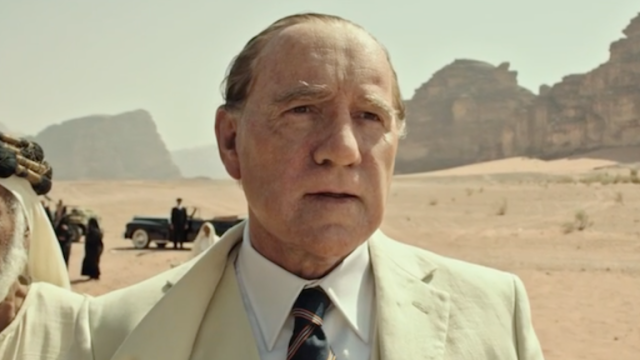 Once upon a time, Kevin Spacey filmed All the Money in the World with director Ridley Scott. But then, multiple allegations of sexual misconduct against Spacey surfaced. So Ridley decided to re-shoot all of the actor's scenes with Christopher Plummer. But as it turns out, Kevin Spacey still appears in one shot of the movie. With help from real-life Wonder Woman Patty Jenkins, Scott recast Spacey with Plummer and re-shot parts of the film just six weeks before it premiered. It was a good and important call, and we are impressed with how promptly it all went down.
Scott told audiences numerous times at screenings that there is one part where Kevin Spacey, who plays J. Paul Getty, remains, Business Insider reports. The final cut of All the Money in the World includes the actor in a flashback scene, showing Getty departing a train in the middle of a desert. But Spacey's face will not be shown. In fact, it cuts to a closeup of Plummer wearing the exact same white suit that Spacey wore in the original take.
Considering those particular scenes were filmed on location, it would have been very time-consuming (and likely very expensive) to reshoot. All in all, we're still very impressed that Scott worked so quickly.
That wide shot in the desert is the only trace of Spacey.
The fact that Scott and his team decided to replace Spacey was a controversial one. But Plummer is a stellar actor, and as of yet, has not been accused of anything horrendous in his past.
We're glad that men in Hollywood are being held to a higher standard for their behavior.
Though the damage will never be undone, it is nice to see men like Kevin Spacey have to answer for their behavior. We are happy to go see All the Money in the World now that it is a Plummer-full film. And we'll just pretend like Spacey's back isn't in that one shot at all.