Kevin Jonas had the sweetest thing to say about Joe Jonas and Sophie Turner's engagement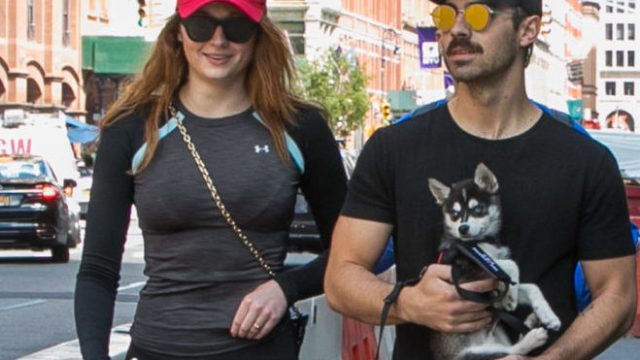 One by one, the Jonas brothers are getting married. It's Joe's turn next, and his brother approves! Kevin Jonas said the sweetest thing about Joe Jonas's engagement to Sophie Turner, proving that he's the best big bro ever. Joe and Sophie got engaged back in October. The DNCE singer and the Game of Thrones star announced the news on Instagram with a picture of her gorgeous engagement ring.
So, what does Kevin think of the news? "Oh my God. So happy for him. Welcome to the club," he told Us Weekly when asked about the engagement on Friday, December 1st. "She allows Joe to be everything that Joe is. He is an amazing person and it's just interesting to see him be the best version of himself with her."
Aww. Did your heart just melt a little like ours did? Kevin's wife Danielle is thrilled about Joe and Sophie's engagement too. "I'm so excited I get to have another Jonas girl," she said. "She is fun, sweet. She's everything I would have wanted for Joe."
Not to be left out, back in November, Nick Jonas revealed his thoughts on Joe Jonas's engagement too. "I can tell you that he found his partner and love of his life," Nick told Entertainment Tonight. "That's all that matters. It's a beautiful thing."
Joe Jonas and Sophie Turner began dating in November of last year.
They did a good job keeping things on the dl. Back in May, Turner opened up about what makes their relationship work. She told InStyle that she likes to "keep things pretty private" when it comes to Jonas.
"I found it easier to date someone who understands the industry or is in that world," Turner told InStyle. "You realize that you're not going to see each other all the time. And you don't feel like a jerk when you're like, 'My publicist says I can't do this…'"
We think Joe Jonas and Sophie Turner make a cute couple, and we can't wait to hear more about their wedding plans — unless they keep those on the dl, too. (Respect.)
Regardless, we love that the whole Jonas family is happy for Joe and Sophie!