Could Kesha be working with Taylor Swift!?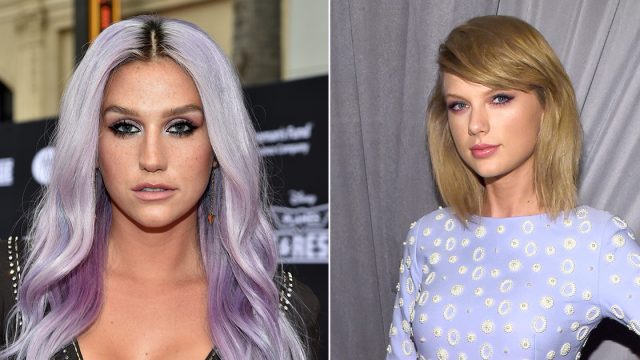 It's safe to say that 2016 has been a bit of a rollercoaster ride for Kesha. Despite heading to court over her ongoing legal troubles with Dr Luke earlier this year, last month (August) it was confirmed that the singer had dropped part of her suit against the producer in a bid to kickstart her music career again.
2016 has also been pretty rocky for Taylor Swift, too. The singer split with her partner Calvin Harris and was embroiled in some nasty Twitter drama with Kim Kardashian and Kanye West.
https://www.instagram.com/p/BFR5h7uDvM8
During Kesha's legal battles earlier this year, it emerged that Taylor had made a generous donation to the "Tik Tok" star to help with legal fees. Kesha also attended Tay's legendary July 4 party.
Now fans of both are speculating that the pair could be working on new music together and OMG.
Eagle-eyed fans picked up on some (not so)subtle hints on Kesha's Instagram about a certain person she was working with and it's too exciting.
"making a FUCK OFF song with a casual Grammy award winning secret person ✨✨☄☄☄⭐️⭐️⭐️⭐️⭐️ I got a good feeling about this one ......." Kesha wrote.
Mmm…cryptic.
Fans were quick to notice that Kesha included exactly 13 emojis. Now, the number 13 just happens to be a certain Ms. Swift's lucky number (she's called @taylorswift13 on Twitter for a reason). Similarly, Taylor as indeed won Grammy awards…
That's not all, however. Internet sleuths also uncovered this Insta-pic of Taylor wearing the same headphones that Kesha is wearing in her picture.
https://www.instagram.com/p/g7QjJLjvOb
Now, this could definitely (and probably) be a coincidence. However, we do know that TayTay is back in the studio thanks to her BFF Gigi Hadid.
We're now SERIOUSLY curious as to what a Kesha x Taylor song would sound like. Kesha used to be known for her party anthems, but the singer has calmed things down recently, as her stunning performance at the Billboard Music Awards and her duet with Zedd showed this year. Similarly, however, Taylor could be going in a totally new direction with her music.
Ugh! It's SO exciting…we just hope it's true.