Kesha's first televised performance of "Here Comes The Change" will make you proud to be a woman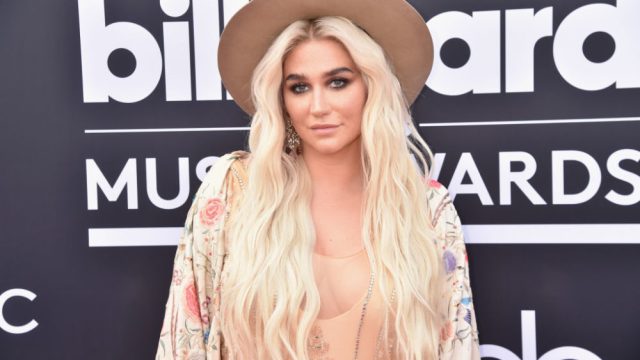 The upcoming Ruth Bader Ginsburg biopic On the Basis of Sex already looks like one of the season's most inspiring films. In addition to focusing on the Notorious RBG's trailblazing career, it also features a powerful new song from Kesha, "Here Comes The Change,"  which we've been listening to on literal repeat since its release. In a December 12th, 2018 appearance on The Ellen DeGeneres Show, Kesha performed the song on television for the first time—and her performance did not disappoint.
Host Ellen DeGeneres introduced the pop star by noting that her song is already generating Oscar buzz and, from Kesha's performance, it's not hard to see why. Wearing a pinstriped blazer over a rainbow sequin dress, the singer belted out a powerful rendition of the "Here Comes The Change"—complete with live harmonica.
Rolling Stone notes that the the movie's director, Mimi Leder, specifically recruited Kesha to write the song because she felt "her passionate voice and immense talent magnify the social justice imperatives Ruth Bader Ginsburg continues to fight for every day." And after watching the singer's performance on Ellen, we agree.
https://www.youtube.com/watch?v=olTDh5U-j14?feature=oembed
The Rainbow pop singer wrote the song after watching On the Basis of Sex, and in September, she penned an essay for Refinery29 about that process.
"In watching the film I was struck by how much Ginsburg was able to accomplish in her life, and at the same time, how much more there is to do in the fight for equality for all people," she wrote. "It reminded me of—and strengthened—my belief that any single person can make lasting change, starting with one small action. I wanted to do what I could to pay tribute to Ginsburg, who has spent a lifetime fighting tirelessly for equality, with no signs of slowing down. I wanted to make my voice heard, too."
It's safe to say that Kesha made her voice heard with "Here Comes The Change." We can't wait to catch On the Basis of Sex when it hits theaters on December 25th.