Kesha performed "Praying" at the 2018 Grammys, and it's one of the most powerful moments in awards show history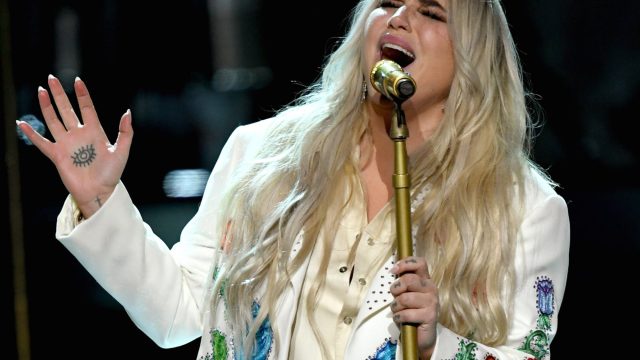 The day before taking the stage at Madison Square Garden for the 2018 Grammys, Kesha talked about her performance on Twitter, saying of "Praying" that she "needed this song in a very real way." After seeing her emotional and empowering rendition of the Grammy-nominated single, I think it is safe to say we all did.
Kesha's unforgettable Grammy performance was an important moment for the singer, and the powerful #TimesUp and #MeToo moment audiences in the room and at home were waiting for.
Dressed in all white with rainbow flowers on her jacked, Kesha delivered a stirring rendition of "Praying" to a captivated audience who couldn't help but get swept away in the power of her performance. Throughout the performance, the two-time Grammy nominee became visibly emotional, but powered through to deliver an unforgettable and historic moment.
Kesha wasn't alone on the stage:  Cyndi Lauper, Camila Cabello, Julia Michaels and Andra Day joined her, all dressed in white.
Following the electrifying performance, the women on stage were quick to embrace one another. James Corden took a moment after the performance to thank Kesha for her brave contribution to the night.
https://www.youtube.com/watch?v=7kzhEdKxyMI?feature=oembed
Cue: tears.
Recording artist, actress, and producer Janelle Monáe introduced the performance with an fiercely empowering speech about the Time's Up movement and the importance of working together to "undo a culture that does not do us well." Attendees in the room were moved to their feet, while audiences at home — at least, at my home — couldn't help but cheer through the tears. It may be early in 2018, but this performance of "Praying" might be the most powerful moments in music of the year.
Before the performance, Kesha tweeted about the song, one she calls "an emotional raw victory for myself" and "one step closer to healing." The most powerful track of of her 2017 album Rainbow, "Praying" is a soul-baring song about pain, hopelessness, depression, and, most importantly, finding peace and strength within.
Since 2012, Kesha has been engaged in a very public legal battle to break ties with her emotionally and physically abusive producer Dr. Luke, who vehemently denies the singer's allegations. Many believe "Praying" is about her heartbreaking struggle with Dr. Luke (though the theory has not been confirmed). Either way, it has become a beacon of hope for abuse victims and survivors everywhere.
This year's award show wasn't just important because of Kesha's inspirational performance: it also marked the first Grammy nomination for the singer. Rainbow, Kesha's first release since 2012, was nominated for Best Traditional Pop Album, and "Praying," the same song she brought down the house with during her stunning performance, was nominated for Best Pop Solo.
Before the show, Kesha told fans on Twitter of that if, like her, they needed "Praying," she hoped "this song finds you." After tonight's performance, I think it is safe to say that for many people, it did.