Twitter is tearing up over Kesha's emotional Grammys performance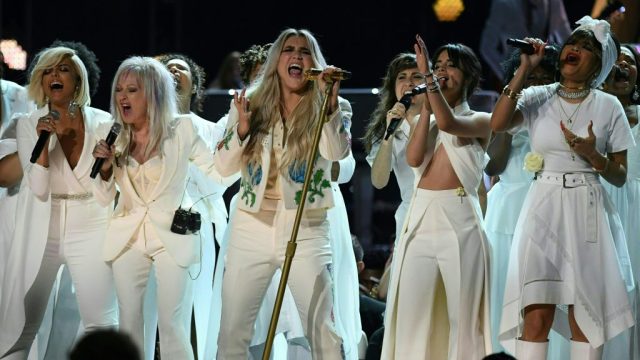 It's rare that you witness a performance that moves you, gives you chills, and speaks directly to your heart quite like Kesha's 2018 Grammy Awards performance of "Praying." Kesha was joined onstage by Cyndi Lauper, Camila Cabello, Bebe Rexha, Andra Day, Julia Michaels, and the Resistance Revival Chorus — who all supplied backup vocals to Kesha's moving and raw performance. The performance brought us to tears and not just because this song marks Kesha's successful return to music after a lengthy legal battle with producer and her alleged abuser, Dr. Luke, but because many suspect that this song was written in direct response to the abuse she suffered at the hands of Dr. Luke.
However, in the wake of the #TimesUp and the #MeToo movement, this song takes on a whole new meaning with lyrics like:
"…But after everything you've done, I can thank you for how strong I have become. 'Cause you brought the flames and you put me through hell I had to learn how to fight for myself. And we both know all the truth I could tell I'll just say this is 'I wish you farewell.'"
As evidenced by the reaction to the song on Twitter, Kesha's words are being internalized in all sorts of new and beautiful ways.
https://twitter.com/udfredirect/status/957817334982328320
However, we can't ignore the darker side of this moment, namely the fact that the very industry she performed for is the same industry that enabled her abuse. false
At the end of the day, Kesha was proud of her performance and we hope she knows how many lives she touched tonight.
You can watch the full performance here.