Kesha said she was super inspired by an extraterrestrial visit, and we're intrigued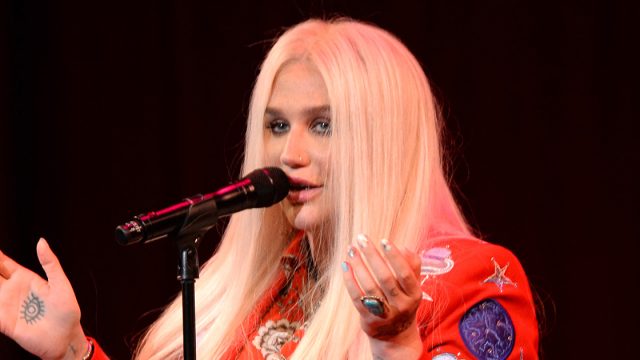 After making a triumphant comeback to music last week, Kesha has opened up about how UFOs helped inspire her new songs, which is so totally Kesha.
Last Thursday (July 6th), the singer made her much-anticipated comeback after not releasing new solo music in four years. While Kesha still has to get permission and approval from Dr. Luke before she releases any new music, her comeback track, the anthemic "Praying," is an emotional song that presents a different side of her as an artist. What's more, the track came complete with a Jonas Åkerlund directed video, which is just as stunning as the song itself.
https://www.youtube.com/watch?v=v-Dur3uXXCQ?feature=oembed
Now, Kesha has opened up about her new album Rainbow, and how UFOs were actually the impetus for one of the songs.
The singer dropped by the Zach Sang Show for an interview about her comeback and her music in which she explains the extraterrestrial visitation.
As Billboard reported, Kesha was at Joshua Tree National Park in California "totally sober" when she spotted the lights in the sky.
"I look up in the sky and there's a bunch of spaceships," she revealed. "I swear to God, there were like five to seven, and I don't know why I didn't like try to take a picture of it — I just looked at it. I was sitting on a rock, and I was like, 'What in the hell is that?' I was trying to figure it out, and then they went away. And then they came back."
The singer revealed that when the lights returned they were in a different formation, which pretty much cemented to her that she had seen aliens.
"I was like, 'Those are fucking aliens.' They were spaceships!" she recalled.
https://www.youtube.com/watch?v=R7LoDjH0ahI?feature=oembed
Indeed, Kesha shared the experience in what, at the time, seemed like a pretty random Instagram post.
The whole experience, she revealed, was the inspiration for the track "Spaceship" from her upcoming third album, Rainbow. 
Meanwhile, the singer wrote a powerful and moving essay for Lena Dunham's Lenny Letter about what inspired her single "Praying."
"This song is about coming to feel empathy for someone else even if they hurt you or scare you,"  she explained. "It's a song about learning to be proud of the person you are even during low moments when you feel alone. It's also about hoping everyone, even someone who hurt you, can heal." 
Kesha releases her new album Rainbow on August 11th. "Praying" is available now.