Kesha is trying to stop Dr Luke from releasing her medical records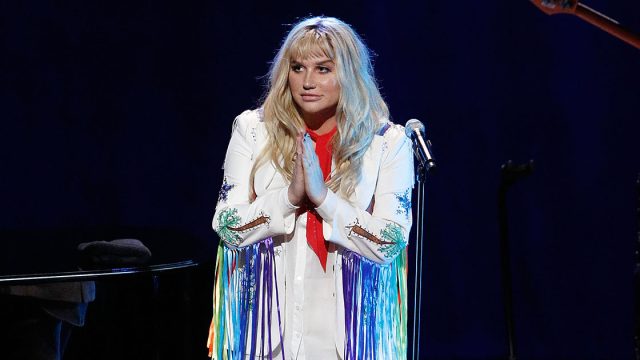 Just when it seemed that things may have been improving a smidgen for Kesha, her nasty legal battles rear their ugly head again.
As you might know, the singer has been embroiled in an ongoing legal dispute with record producer Dr Luke, whom Kesha has accused of rape and sexual assault.
Earlier this summer, it was announced that Kesha was going to drop one of the legal suits she had against Dr Luke, whose real name is Lukasz Gottwald. It was also revealed that the singer had submitted nearly 30 songs to her record label Sony in a bid to kick start her music career again.
All of this comes despite the fact that Gottwald requested Kesha's medical records back in May.
Now it's being reported that Kesha is having to take more legal action to block Gottwald from making said medical records public.
According to reports by Page Six, Kesha fears that her former producer might make private and intimate details about her medical history public knowledge, including information from gynecological, psychiatric and rehab records.
"Ms. Sebert now fears that Gottwald will seek to disclose and disseminate her personal medical records in an attempt to embarrass and harass her," Kesha's attorney James Pearl wrote in a motion to Manhattan Supreme Court Justice Shirley Werner Kornreich.
Initially, Gottwald requested the singer's medical records in a bid to attempt to disprove her allegegations of sexual assault.
Now the "Tik Tok" singer  fears that the producer might use her records to make a public spectacle of her.
"Ms. Sebert has disclosed highly sensitive personal medical records as part of this litigation," her attorney continued, "and her position as a world-renowned recording artist in whom there is great public interest renders any potential disclosure of those records potentially harmful to her personal and economic interests."
While it's not quite clear what has spurred on this latest slew of legal issues, Dr Luke recently filed a second lawsuit against Kesha's mother for defamation following an interview she gave in Billboard this May.
In statement also released, the producer's lawyer dismissed claims that they planned to release the medical records and that it was up to the courts to decide whether Kesha's medical records remain confidential or public disclosure.
"Kesha wants to hide her records, while continuing to make self-serving, selective and misleading statements to hurt my clients publicly," said Linda Carbone, Gottwald's lawyer. "We in fact offered to keep the records confidential. Kesha's attorneys refused that offer, and instead filed their misleading motion for more press attacks on my clients."
As Rolling Stone reports, hearing on this motion for a protective order is scheduled for Wednesday, October 26th.
All of this sounds seriously messy and adds another layer of confusion to what is already a difficult and complicated legal battle between Kesha and Gottwald.
We hope that Kesha can tap into the positivity that she's recently been exuding with her string of live dates.
As always, our thoughts go out to her during this difficult time.
If you, or someone you love are a victim of assault, there ARE resources for you, and just remember: You are not alone.