Kesha just helped this couple get engaged at Disney World because she's the best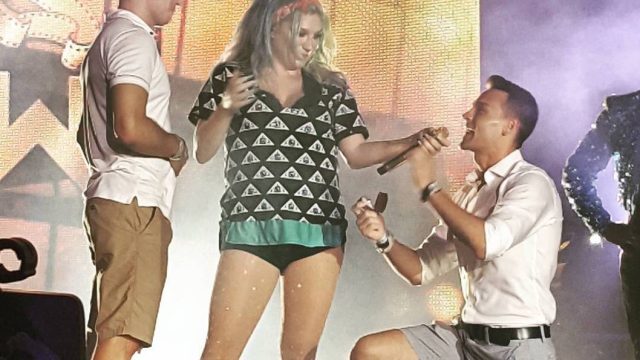 Kesha? More like Cupid. The 29-year-old pop star is on a roll when it comes to officiating the weddings of same-sex couples and this time she's starting right at the beginning: the proposal. During the One Magical Weekend festival held at Disney World in Orlando, Florida over the weekend, Kesha invited fan Joseph Negrelli on stage to propose to his boyfriend, Naveed. Of course, Naveed said yes, and it's all captured on Instagram.
"We had booked our tickets to go to the One Magical weekend stuff, and then they announced that Kesha was performing," Joseph told Billboard when asked about the night. On a whim, Joseph decided to message her on Instagram asking if she'd assist with his proposal. Because Kesha is amazing, she immediately got back to him and put him in touch with her manager.
His family kept Naveed distracted while Joseph schemed with some of the producers, and when the time came for the big moment, Joseph told Naveed that they had won a contest to meet Kesha. The happy couple was blindfolded and brought on stage, but they were quickly removed to make way for the most heartwarming proposal we've ever seen. https://www.youtube.com/watch?v=
Ater the proposal, Joseph and Naveed got to hang out on the side of the stage, and clearly became BFFs with Kesha since they posted this Instagram not long after:
We can't think of a more magical proposal, or a better person to help pull it off. Kesha has always been an advocate for LGBT rights, and was even honored with the Visibility Award at this year's Human Rights Campaign Nashville Equality Dinner. This is just another moment in a long list of things that Kesha should be super proud of. Congratulations to the happy couple!