Kerry Washington opened up about Reese Witherspoon's mentorship and Hollywood's newfound "sisterhood"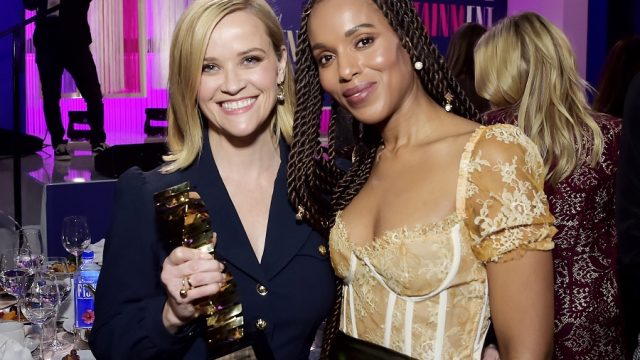 In her February 6th interview with InStyle, cover star Kerry Washington stressed the importance of sisterhood—especially in Hollywood during the post-Time's Up era. Washington and Reese Witherspoon will both star in and executive produce Hulu's upcoming Little Fires Everywhere, based on the best-selling book by Celeste Ng. Washington revealed that she turned to Witherspoon as a mentor in the male-dominated space.
After establishing her own production company, Simpson Street, in 2016, Washington reached out to Witherspoon for mentorship.
Witherspoon is the head of her own production company, Hello Sunshine, and Washington was looking for practical advice. She turned to another female producer who had made a safe and welcoming space for women in the industry on many projects, including Big Little Lies.
"I knew that Reese had several production companies through the years and had learned a lot during the various stages of their development," Washington told InStyle. "I said to her, 'You're killing it now, but tell me all the mistakes you made so I don't have to reinvent the wheel.' She said, 'Not a single other actress has called me to have this conversation.'
https://www.instagram.com/p/B7eJYttHnPU
For Little Fires Everywhere, both Hello Sunshine and Simpson Street are credited as producers, and they together hired a diverse group of women writers and directors ("And one man," Washington said) to work on the project. It's something Washington has expanded on via work within Simpson Street's umbrella, opening the doors to other women and people of color. She says that it's been freeing to discuss both her gender and racial identity and have writers, directors, and fellow producers actually understand where she's coming from.
"I'm doing a project with two co-producers who are Black men, and it's a different kind of safety," she said. "In a room full of women, I still have to translate my Blackness, in a way. In these rooms there is another kind of safety that comes from speaking to the same cultural, racial identity."
https://www.instagram.com/p/B8OfX56nxlA
And when she's not working with Witherspoon, Washington has joined forces with other women powerhouses in Hollywood.
She's done a film with Eva Longoria called 24-7, and is slated to appear in a film written and directed by Rashida Jones.
"We are really pouring into each other," Washington said, referring to this women-helping-women movement happening in Hollywood in the wake of Time's Up. "We became a sisterhood in the industry across different roles and, in particular, with fellow actresses. We are so invested now, and we understand each other."
Little Fires Everywhere is set to debut on Hulu on March 18th. We can't wait to see the goodness that results from a diverse group of women (and one man) working together.