This body-positive role model said the most necessary thing about having loose skin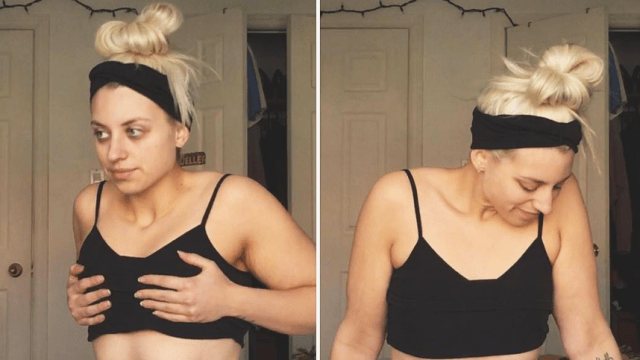 Self-proclaimed self-love enthusiast Kenzie Brenna has decided she's not doing anything about the loose skin on her stomach. And her Instagram post proclaiming this is something that should be required reading for anyone who has struggled with accepting his or her body (i.e., EVERYBODY).
Brenna is an actress, writer, YouTuber, and body activist who uses the power of social media to help spread her body-positive messages. She started the trend #CelluliteSaturday, which encourages people to embrace their skin appearance. Now, Brenna has focused on loose skin and accepting it.
While she doesn't judge anyone who chooses this path, Brenna wrote in her January 30th post that she will not be getting cosmetic surgery to change the appearance of her stomach — not only because of financial limitations, but because of how it would impact her emotionally as well.
That means, she'll be working on embracing her tummy skin and her body AS IS.
Her post is full of body-positive inspiration, like:
"There's nothinggggg to be ashamed of. A body part that doesn't look like the body parts you've seen PLASTERED in the media, doesn't make it wrong.
And she knows it's not always easy:
"Yes it'll feel wrong to embrace. Yes it's counterintuitive to love yourself as is. Yes there will be moments where you're not fucking good at accepting yourself. And you'll truck through all of them, just like you have with the last x amount of years of yourself."
But Brenna and her community are there for you if you need them. She noted she is personally inspired by the #EmbraceTheSquish movement.
https://www.instagram.com/p/BPds-fHACBD
Another way to make the most of your body as it is right now? In the words of Brenna: "If what you're doing right now DOESNT feel good, STOP.
"Chasing yourself in circles fuelled [sic] by dislike, hate, negativity will NOT equal out to a positive, well balanced, harmonious, loving, soothing, body, mind or soul."
And that's what it really is all about — being positive about yourself to have a positive life. So while it might feel like an uphill battle, let Brenna serve as an example to learn to embrace the parts of your body that you not only can't change, but that you don't want to change.