How to watch the Kentucky Derby on May 5th, *plus* the top predictions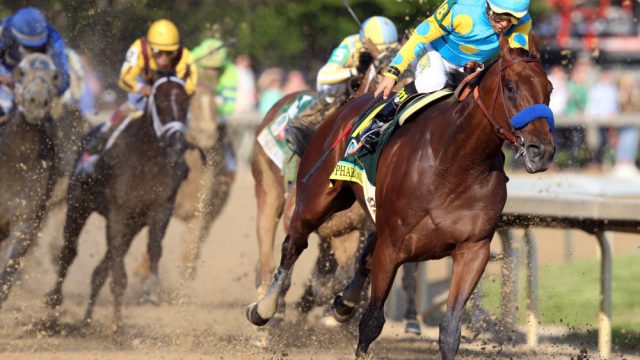 Get your oversized hats and mint juleps ready, because the Kentucky Derby is happening this weekend! The race, also known as "the most exciting two minutes in sports," is the biggest horse-racing event of the year. And many are currently wondering how and when to watch, and which horse they should put their money on. Don't worry, we've got you covered.
This year's Kentucky Derby takes place on Saturday, May 5th (aka the first Saturday in May, which is when it happens every year). It will be held at Churchill Downs in Louisville, Kentucky, and will feature 20 horses and their riders all competing for a grand prize of $2 million. The race is scheduled to begin at 6:46 p.m. ET. There will also be pre-coverage on NBC starting at 2:30 p.m. ET, and it will run until around 7 p.m. ET.
Considered "the biggest race in the world," the Kentucky Derby has millions of people from all over the world placing bets, and this year's Derby is loaded with viable contenders. According to experts, Justify is favored to win (he's 3-for-3 in his career), but that doesn't mean it's a done deal.
Here are the morning line odds for the 2018 Kentucky Derby (as of May 4th), set by the track's veteran oddsmaker, Mike Battaglia:
1. Firenze Fire (50-1)
2. Free Drop Billy (30-1)
3. Promises Fulfilled (30-1)
4. Flameaway (30-1)
5. Audible (8-1)
6. Good Magic (12-1)
7. Justify (3-1)
8. Lone Sailor (50-1)
9. Hofburg (20-1)
10. My Boy Jack (30-1)
11. Bolt d'Oro (8-1)
12. Enticed (30-1)
13. Bravazo (50-1)
14. Mendelssohn (5-1)
15. Instilled Regard (50-1)
16. Magnum Moon (6-1)
17. Solomini (30-1)
18. Vino Rosso (12-1)
19. Noble Indy (30-1)
20. Combatant (50-1)
But the Derby isn't just about the races — it's also about the fashion. Over the years, celebrities like, who else, Kim Kardashian have shown off their best outfits at the event. Queen Elizabeth II also attended the race in 2007 during her visit to the United States. The Derby has always been a draw for the rich and famous, so we seriously can't wait to see who attends this year.
Good luck to all the horses (and their riders, of course).