We talked to Kenny Ortega about finding stars before they are stars, "Gilmore Girls," and Disney magic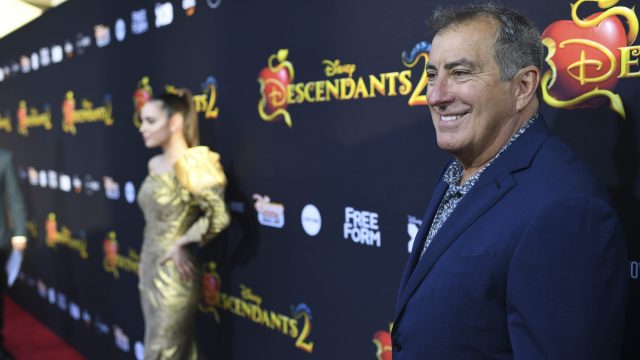 Christina Bale, Zac Efron, and Dove Cameron — all three of the biggest names from their respective generations, and they all have one very special thing in common. And his name is Kenny Ortega.
The long-time director and choreographer — who has literally had a hand in so many of your favorite things, seriously, look at his IMDb page — is back at it once again, and back home on the Disney Channel. His latest movie, Descendants 2, premiers Friday night and if you can believe it, his DCOMS just keep getting bigger and bigger. Troy Bolton probably never would have lasted up against Ursula's daughter, Uma, just saying.
During the D23 Expo, Disney's giant bi-annual convention for all things Disney, HelloGiggles caught up with Ortega to chat about what it's like finding these young stars before they are stars, Gilmore Girls, and Disney magic.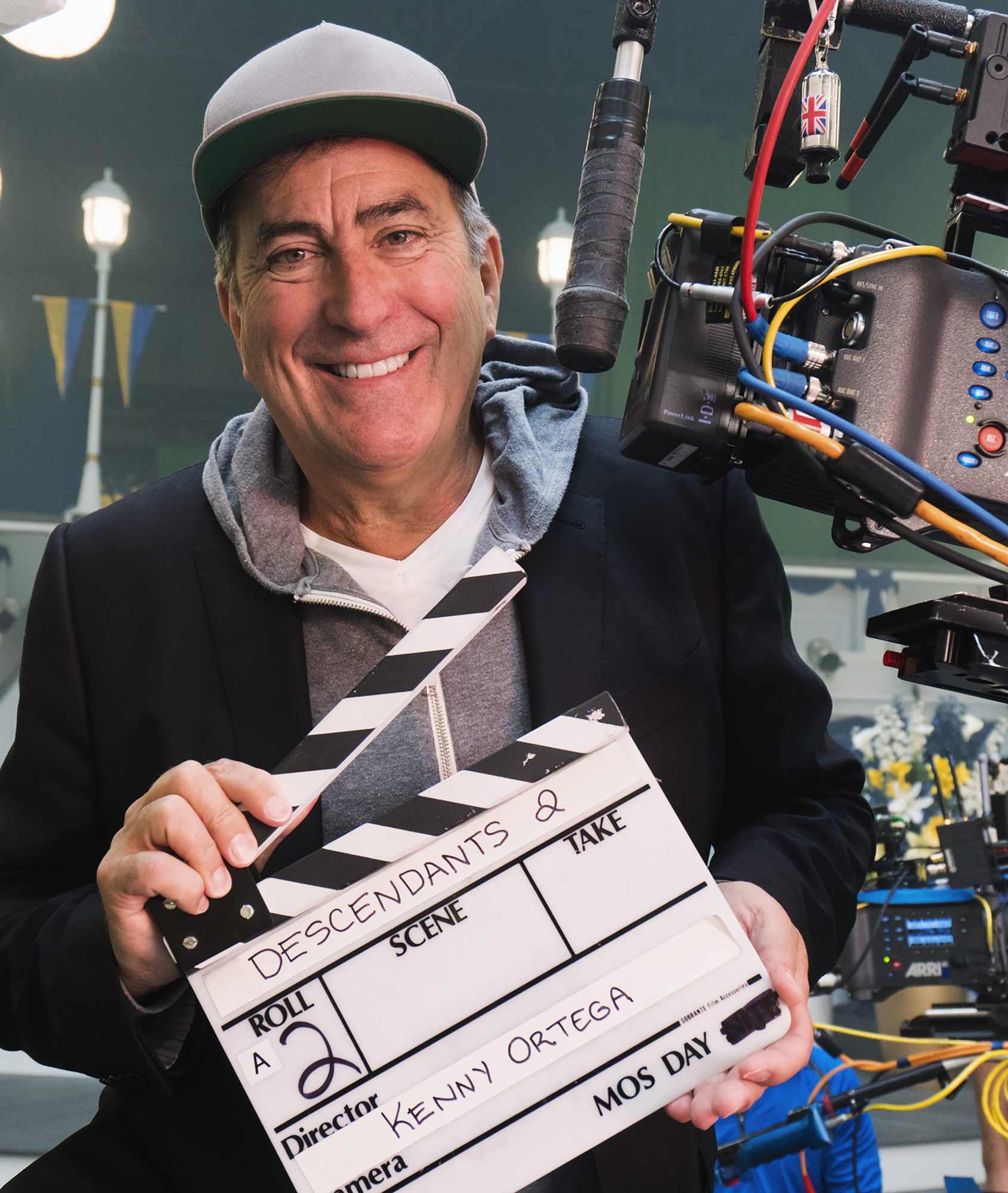 HelloGiggles: Let's talk about Descendants 2. I have not seen it yet, so no spoilers, but I can assume it will be a trilogy, correct?
Kenny Ortega: Well, you know what? That really is up to the fans. I've learned that you can wish all you want, but really what it is it's whether they connect and whether they want it. We've been very, very lucky. High School Musical, they wanted it. Descendants, they have made it so clear that they want 2 and, honestly, 2 hasn't even premiered yet, and they're already saying they want 3. I think we're in good shape. I think there's a chance that we can keep this going. We all want to. We're having a real good time.
HG: You've already brought in so many Disney characters to life far in this series, is there one that you're just dying to bring in for, if it happens, Descendants 3?
KO: Well, I'm so satisfied with the characters that we have. I've been so invested at just making sure that I'm doing everything I can to guide them and steer them in a real good direction as we're developing these new heritage characters that I haven't thought that far out front yet. My gosh, there are so many. I'm just so thrilled that we got Cruella De Vil's son and Captain Hook's son. I wouldn't mind The Lost Boys. Yeah, maybe someone from Pinocchio.
HG: How does it feel to know you've influenced so many generations, even going all the way back to Newsies?
I'll tell you, lots of times the young people come up to me that are now graduated from university or beyond that said, "Thank you so much. You were an enormous part of my childhood." My reaction always is, "Thank you for allowing me to be a part of your childhood because it has completely changed my life. It has enabled me to dance in my dreams." This is always what I wanted to do. I always wanted to direct stories with music and dance. To have this opportunity has just been everything I've ever wanted. To know that we've touched the lives of children and young people and families all over the world. A hundred million people saw Descendants and every continent.
I went to Africa to visit an orphanage when I was doing High School Musical, and I brought the movie with me thinking that they hadn't seen it. When the gates opened up, the children were singing one of the songs from the movie. It's amazing how it's traveled and through cultures and languages. It's awesome, extraordinary.
HG: When you look at all the young casts, do you know immediately they're gonna be stars one day?
KO: I feel I do because I've been around for a long enough time to know. I go back quite a few years, well before High School Musical and Descendants. The success of any film is really about the choices that are made on so many levels. You need a studio that understands it and it gets it and it believes in it and it's gonna go out and market it. But you also need a team of partners, not just players. I've always tried to make sure that we are casting partners. Young people that aren't just waiting for me to give them direction, but the kids that have invested time in researching their characters that come to the day with ideas and enthusiasm and generosity. We take our time, and we search high and low. Mitchell came to us from Australia and Thomas from Scotland and all across the United States. At the end of the day, I'm always believing that we've got the goods and that any one of these kids could really breakout and have a full career if that, in fact, is what they're looking for.
HG: Do you allow for input from the actors? 
KO: All the time. They have a voice with me every day, always. I never silence them. Sometimes their idea's better than mine and sometimes I feel I have to be the director. At the end of the day I have to make those choices. But they're very respectful of that and have grateful that I provide them with a space where they get to have a participation. It raises the bar on everything. The more clever minds and creative minds that can be a part of it, just so long as that there is focus. I'm a man in charge and so it never gets in the way. It always just promotes and produces I think great results.
HG: What is the craziest Disney experience you've had?
KO: People that don't speak English that come up to me and share their enthusiasm with me in another language. With tears in their eyes and shaking with just excitement that they're standing in front of me and that I've had some impact. That they've made a connection with the work that I've directed is just, it's absolutely mind blowing. That we supersede, that we transcend language and transcend culture, and that we have that ability with these movies and these characters, these wonderful actors, and the music and the dance.
When we did a High School Musical, we toured all over the United States and Latin America with concert tours.
HG: Yes, I saw one!
KO: We would go to countries like Sao Paulo, Brazil and Buenos Aires, Argentina where 75, 90,000 kids a night were singing every lyric to the songs. It was unfathomable to me. As much as I've imagined for myself … and I think big and I wanted big … I never imagined that I would have the ability to reach out and to connect with that level of populace. I'm really grateful to Disney Channel and the Walt Disney Company for giving me a voice and putting their trust in me and letting me come back so many times.
HG: Now you've also done just a lot of TV shows. You've directed a lot of Gilmore Girls episodes. You just-
KO: Yes, and Ally McBeal! I loved doing Ally McBeal.
HG: … and you just did an episode of Crazy Ex-Girlfriend.
KO: Yes, which I loved and I wish that I could do more of. I've been invited to do Jane the Virgin and a lot of television. I just haven't had the time because of the good fortune of these movies. But I do enjoy television. I enjoy watching it, too.
HG: What would be then your dream show to go back to? Or just to even do?
KO: My dream show to go back to. Could I say one of my own?
HG: Yeah!
KO: Oh my, maybe I'd love to go back and do Gilmore Girls with Amy Sherman-Palladino.
HG: Good answer. I like to think I'm single-handedly in charge of bringing Gilmore Girls: A Year in the Life back for Season 2. I'm just saying. 
KO: She's amazing and Dan, her husband. They're so amazing. They're incredible to work with and they're so bright and they're so good at writing. They really are. It's like working with David Kelley when I worked with Calista Flockhart on Ally McBeal. That writing is everything. To have it on the page just is half of the work. Then the rest is just being inspired and making good choices and knowing how to interpret what's there. That's how I feel about our writers. I'm very proud to be working them on Descendants and Descendants 2. They really provided me with an incredible book, both movies, that just shoot me out the gate on fire and really excited.
You can check out Ortega's latest, Descendants 2 airing on (deep breath): Disney Channel, Freeform, Disney XD, ABC, Lifetime, and Lifetime Movies at 8:00 p.m. this Friday, July 21st.