Kendrick Lamar's mom reviewed his new album in an emoji-filled text message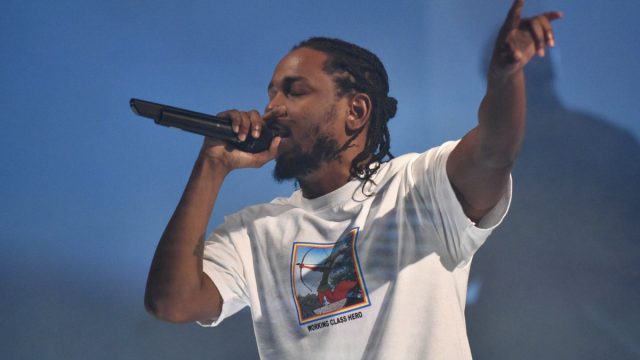 On April 14th, the heavens opened up and Kendrick Lamar blessed us with new music. K-Dot released his fourth studio album, DAMN. — and we've had it on repeat ever since. By all measures, the album has been a huge success. But perhaps the biggest measure of success might be the emoji-filled album review from Kendrick's mom. On Saturday afternoon, Cornrow Kenny shared a screenshot of the emoji-filled text from his mama, Paula Oliver, after she listened to DAMN. for the first time.
The paragraph-long text message is both hilarious and heartwarming, as she shares her initial thoughts on the album and its cover art.
"OMG. This CD is bombbbbb!", she wrote at the beginning of the text. Before continuing to say she wishes she and K.Dot's dad could have been a part of it. Kendrick's parents were featured in the skits for good kid, m.A.A.d city. She also mentions that Kendrick's father thinks he looks a little "stressed out" on the cover, a sentiment with which many fans would agree.
https://www.instagram.com/p/BTMujmul81L
And speaking of fans, it seems Lamar's mother loves her son's fans just as much as they loved this little exchange on Twitter. "Your fans are some diehards," she said. "I love them."
https://twitter.com/udfredirect/status/855870284460695553
DAMN. received countless rave reviews last week, with Vulture calling it "brilliant, anxious, and spiritual." But we're almost sure none of those wonderful words can compare to the knowledge of just how proud he has made his mother.
https://twitter.com/udfredirect/status/855870285920206848
And of course, being as cool as he is, Kendrick replies in the way most kids would to their emoji-loving parent, "Who taught you ?? Lol." false
The outpouring of love and congratulations Kendrick received from his mother is just so beautiful — we're not crying, you're crying.