Kendall Jenner snacks on some McDonald's shirtless, is all of us
Yes, Kendall Jenner may get to walk the most prestigious, Fashion Week runways. And yes, she may be surrounded by famous people, beautiful clothes, and reality TV cameras. But girl still likes to get her McDonald's on. Without a shirt, as one does.
In the midst of New York Fashion Week, according to People, Kendall Jenner gave Vogue a behind-the-scenes look at her life during a segment we're calling Keeping Up with Kendall. Let's review…
The 20-year-old model's relatability score goes through the roof when she rushes to shave her legs in the back of a car. I mean, haven't we all been there? (Now, if only we could get our hands on those super cute boots.)
After a meeting with Marc Jacobs, FaceTiming BFF Gigi Hadid, and FaceTiming her other BFF Cara Delevingne, we get a peek at something that's much more our speed: Kendall eating pancakes in bed. She states, "You know, modeling is such a sport. I don't know why it's not in the Olympics. My dad told me he ate pancakes every morning before the Olympics."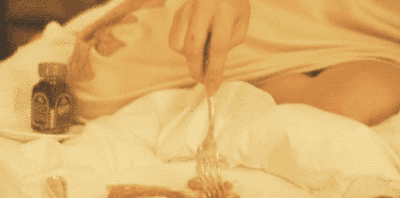 Okay, we'll admit it: we have no idea what it's like to have Kim Kardashian hand-deliver us McDonald's. But, we do understand the look of pure joy on Kendall's face when, while topless, she takes a bite of her meal. She adds, "I'm extremely comfortable which kind of scares me because there's a lot of people around."
Kendall and Gigi are just like us and our friends! No, really! They talk about periods, boobs, and a toe that looks "like a finger." Also – we, too, enjoy performing synchronized dance numbers with our bestie (which, sadly, isn't always followed by a brief rest in a pile of designer duds):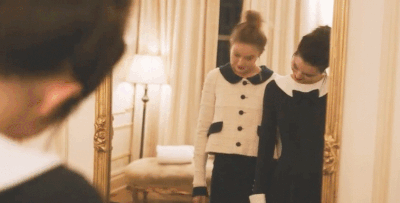 Definitely us at the end of every day (minus the opulent bathroom):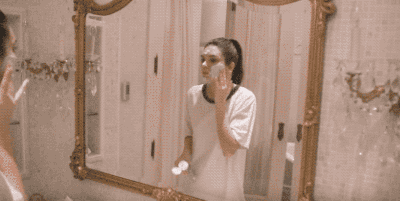 Next time we come home after a long day, get undressed, and chow down on some well-deserved food, we're going to close our eyes and imagine that we're living the life of Kendall Jenner.