Kendall Jenner just hilariously shut down rumors that she's pregnant in five words on Twitter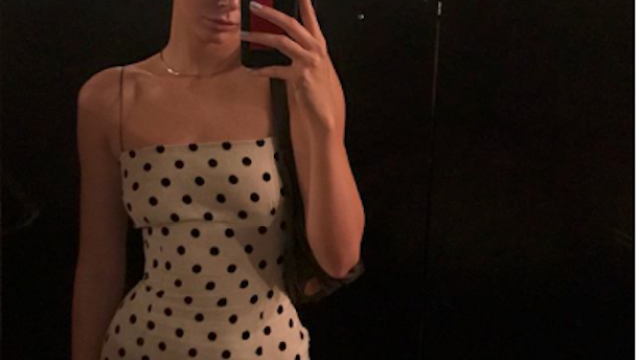 We have a very important announcement: Not EVERY member of the Kardashian/Jenner family is having a baby. After Kendall Jenner posted a mirror selfie on Instagram on Friday, December 29th, the internet began to theorize that she might be pregnant. But Kendall Jenner just responded to those pregnancy rumors with a hilarious tweet, confirming otherwise.
The picture shows Jenner wearing a tight dress, and some commenters began to inquire about the status of her womb. She immediately addressed the pregnancy rumors on Twitter (which is more than we can say for her sister Kylie) with a smart quip. In case you haven't been paying attention to America's most famous family, there are a lot of pregnancies and rumored pregnancies going around right now. Pregnant Khloé Kardashian is flashing her diamond "Mommy" bracelet on social media. Kim Kardashian is expecting a baby via surrogate. And, well. We still aren't sure about Kylie Jenner. Either way, Kendall is about to become an aunt again and again. But NOT a mom.
A picture of a woman wearing a tight dress should absolutely never imply that she is pregnant. At least Kendall Jenner has a sense of humor about it. Sometimes a girl just likes to eat bagels, you know?
And her fans have her back.
The responses in Kendall's defense are awesome and really empowering. false
Hell yeah, Kendall. Eat, drink, and be merry.
It should also be noted that it's never ok to comment on a woman's body, famous or not. No one should find the need to discuss whether or not someone is pregnant based on a casual Instagram selfie. But sadly, this is what comes with being wildly famous. Do better, everyone.
https://www.instagram.com/p/BdTKxfVDYFO
Perhaps what we should be discussing is her caption. Does "loner life" mean she is the only one not currently expecting and/or already a mother? Is she expecting to be an aunt to her sister Kylie's baby? Is she "loner life"-ing it up because she has no sisters to attend parties with because they are all at home drinking pregnancy tea and stuff? These are the real questions, people.
For now, here's Kendall Jenner's one and only child.
You go, girl.