Kendall Jenner wore the exact same dress that Paris Hilton wore for HER 21st birthday party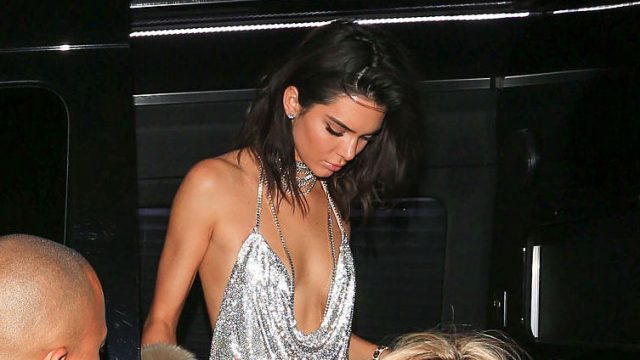 Full disclosure: we're still swooning over the slinky, sparkly birthday dress Kendall Jenner wore for her 21st birthday last night. This $9,000 LaBourjoisie dress is like a silver disco dream, and that's what made it absolutely perfect for the supermodel to ring her 21st birthday in.
Turns out Kendall isn't the only girl in the world who thought the dress was the perfect head-turning look for a 21st birthday celebration. Ready to have your mind blown? Fellow socialite Paris Hilton wore the same dress for her 21st birthday back in 2002, and we're just like OMG at this realization.
Yep, Kendall took a cue from sister Kim Kardashian's former BFF Paris when picking out her glamorous dress covered in Swarovski crystals and we're obsessed. Check out both ladies in their party dresses.
https://www.instagram.com/p/BMXANYQj8Q8
Both Kendall and Paris rocked the crystal dresses with similar chokers and a boxy clutch, and while it's a daring look, they both pulled it off flawlessly.
Kendall celebrated her milestone birthday with friends and family at L.A. hotspot Delilah, and there were — obviously — Insta posts and Snapchat videos aplenty of the soirée. Paris turned 21 back in 2002 before social media was even a thing, but her fiesta wasn't any less fabulous — in fact, Paris's 21st birthday spanned five days AND five time zones, with her family and friends fêting her big day at separate parties in London, New York, Tokyo, Los Angeles, and Las Vegas.
On hand to celebrate with Paris at her NYC party? None other than Kendall's mom, Kris Jenner. Of course, at the time, baby Kendall was only 7, so she wasn't at the party, but it's kinda cool to think that Paris has now passed the glittery, dazzling torch on to Kendall as she hits the big 2-1.
https://www.instagram.com/p/BMWli1YjybG
Happy birthday, Kendall!