Kendall Jenner and Gigi Hadid become "humanoid creatures" in this performance art vid we can't stop watching
Kendall Jenner and Gigi Hadid celebrated the 10th anniversary of W Magazine's November art issue by being inducted into the futuristic world of Lizzie Fitch and Ryan Trecartin. To make this happen, the supermodels star in a performance art video called "Placebo Pets," where they've become domesticated and friendly humanoid creatures.
And yes, it's as weird and captivating as it sounds.
Fitch and Trecartin are known to be video art visionaries — their films combine color, sound, character and computer effects. and are crazy and all over the place. But in the best way, of course.
"The artists explore how cameras, social media, and reality TV have changed the way we engage with the world and with one another," W Magazine explained. "Their videos are made up of props, sets and digital effects they invent themselves. There is no plot, and their characters live in a post-gender, post-racial world, taking on various identities, sexualities, genders, and races. A character can be many people at the same time, shot in offbeat environments created by the artists."
In "Placebo Pets," Jenner and Hadid's faces are morphed into humanoids with the use of prosthetic noses and ears — and their voices are super low. Like a Snapchat filter gone wrong (or right).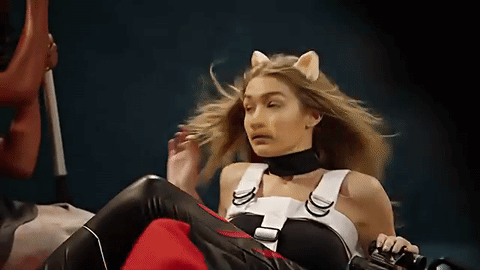 It's a bizarro futuristic world where nothing makes sense, but strangely, we're into it.
Take look at the video, and try to watch with an open mind (because you'll def need it):
Weird, right? But also kind of cool.
"There's a certain power that animals have over us when they respond to us in unexpected, friendly ways," artist Trecartin told W of the idea behind the shoot. "And it's really them domesticating us almost more than us domesticating them, because they're training us to want them. Training and taming something is not one-sided. We created social media, but then it changed us because we interacted with it. It transforms us and transforms the next thing that happens just by existing. You can't really avoid being trained."
Jenner and Hadid, both being social media power houses, are the perfect gals for the job.