Kendall Jenner and Gigi Hadid magically coordinate outfits, give us all the #fashiongoals
You know that thing where you and your BFF subconsciously start dressing like each other? Like, you'll show up for a fro-yo date both wearing nearly identical cutoff shorts, plaid shirts, gladiator sandals and you're all, "Did we plan this? Definitely didn't plan this." Or maybe you don't have the exact same outfit on, but you notice how perfectly coordinated you are. It's basically proof that you're on the same BFF wavelength. And also that it's time for a selfie captioned "#twinsies!"
Accidental #twinning is one of the weirdest and most magical side effects of the BFF connection. And guess what? It totally happens to celebrity supermodel BFFs too.
Exhibit A: Kendall Jenner and Gigi Hadid: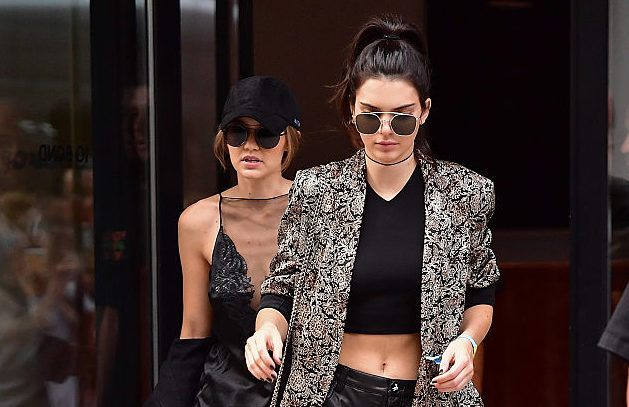 Pointy leather boots, matching glasses, a touch of brocade and lace.
Check, check, check, check.
Did Kendall and Gigi plan this coordinated look? We're guessing it was more of a surprise, "Oh my gosh I love your outfit, and I especially love how your outfit looks with my outfit" moment.
This isn't the first time Kendall and Gigi have made a fetching and well-coordinated duo.
There was the floppy hats:
The black tops and retro denim:
https://www.instagram.com/p/BG70OZ9jo2e
And of course the pink Angel robes:
OK, maybe that last one doesn't count as an accidental BFF #twinning moment; it's more of a matching work uniform, albeit a super glamorous one. But still! These two are all kinds of #goals and we love seeing their fun (and fashionable) friendship in action.