There are *fifteen* Kendall Jenner clones in Fergie's new music video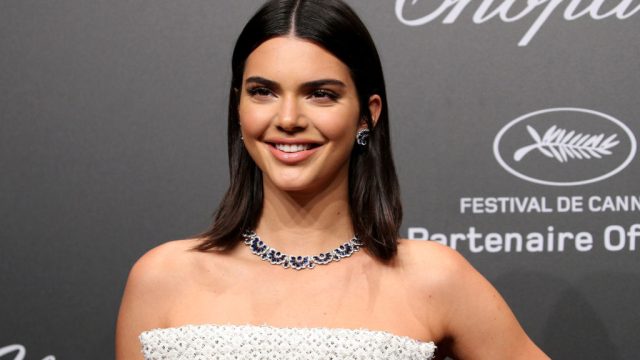 Sometimes it feels like the Kardashian-Jenner clan is truly everywhere. However, in Fergie's new music video, Kendall Jenner is quite literally *everywhere.*
The supermodel stars in Fergie's latest music video. It's for the song "Enchanté," from Fergie's newest album, Double Dutchess. (Taking a cue from Beyoncé, it even includes a visual album called Double Dutchess: Seeing Double.)
The video comes out just over a week after Fergie and husband Josh Duhamel announced they are splitting after eight years. Sad news to be sure, but we're glad to see Fergie thriving. The album features several guest singers, including Rick Ross and Nicki Minaj, so it makes sense she tapped a Jenner to join the fun too. Fergie has teased a forthcoming tour on her social media accounts, and we can't wait.
The video starts with Kendall Jenner waking up and embracing the day in hot pink sheets. All of a sudden, one bed and one Kendall Jenner turns into three.
Soon, even more Kendalls appear, including one in a blue sequined top lip-syncing in French from inside a glass case. A few seconds later, we see various Kendalls preparing to go out, one flouncing around in a tub while others dance and apply makeup.
https://www.instagram.com/p/BZWKpXsgsoJ
It's as bizarre and trippy as it sounds. The video includes a lot of quick cuts and choppy imagery. The 15 different Kendalls that appear throughout the video flash and disappear quickly, so it's hard to fully understand what's happening.
At the end, there's a table of six Kendalls chatting together. You can see it all for yourself here:
https://www.youtube.com/watch?v=pMZAhWZxdGI?feature=oembed
Meanwhile, the Kardashian clan is gearing up for its 10-year anniversary special on E! tonight. The feature airs in tandem with the rumors that Kendall's sister Kylie might be pregnant.
We'll be tuning in to both that and Fergie's upcoming tour.