Kendall Jenner wore the cutest candy cane onesie on Christmas, and you can get it for $20
Ever wonder how the Kardashian-Jenner crew spends their Christmases? Well, we know Kylie rocked the holiday in a sequined black jumpsuit, Kris was gifted a classic car of her dreams, and Kourtney had a mini-ugly Christmas sweater party. We also know that Kendall wore an adorable candy cane onesie that we absolutely must have right this minute.
It was exactly what you would expect a red-and-white Christmas onesie to look like — cute, comfy, and kitschy. We first caught sight of this number on Kendall's Snapchat, when she was caught prancing around her room in the onesie with a towel on top of her head.
https://www.instagram.com/p/BOctORLgeGb
In case you have fallen as madly in love with this Christmasy ensemble as we have, you can get your hands on it for just $20 from Burt's Bees.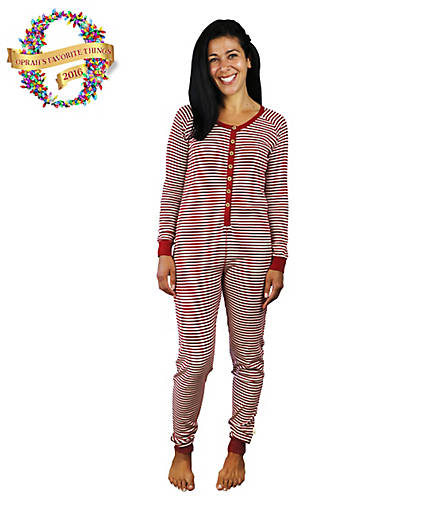 It's the final sale price, so we're guessing they don't have that many left. Hurry and order yours before they get snatched up — or before the holidays are over and you've lost your reason to gallivant around the house in a candy cane outfit. (Although there's nothing wrong with wearing some festive jam-jams year-round, okay?)
That Snapchat wasn't the last we saw of this festive onesie, though. It seemed like Kourtney was wearing the same thing as she took a little Christmas drive around town with Kendall.
Yes, it would seem that they're both wearing the same Burt's Bees onesie. Of course, they've completed the ensemble with white fluffy coats and designer sunglasses, but something tells us you'll have just as much fun slipping on the onesie all by itself.