Kendall Jenner crushed charades with Jimmy Fallon last night
Everyone likes a good game of charades — and last night on The Tonight Show, a pretty solid round was played. Actor Charlie Day teamed off with Tonight Show co-host Steve Higgins, while Kendall Jenner and Jimmy Fallon paired together to try and dominate.
As it seems, both Day and Jenner are true naturals at the popular guessing game. And as expected, things eventually get a little bit tense. (Don't they always?) But, we must say — in comparison to other rounds of charades, the words given last night were pretty challenging.
Day and Jenner got pretty passionate while trying to communicate with their partners, which makes the whole game so much more fun — especially when Jenner was given song titles that seemed impossibly long.
Watch and see who's declared the winner:
https://www.youtube.com/watch?v=s9nmENL5TOk?feature=oembed
Jenner is a pro at guessing, that's for sure — we're definitely impressed by how quickly she picked up "The Matrix," which seemed like it'd be a bit of a difficult scenario to act out. (It definitely seemed a bit tougher than "Kiss From A Rose," that's for sure!)
We also feel for Higgins — we have no clue what he was trying to do when he got "Bambi."
The showdown at the end between Fallon and Day is our absolute favorite.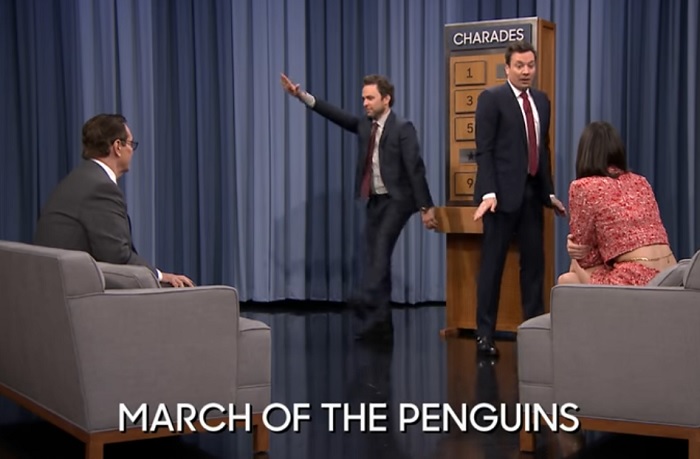 Both Fallon and Day totally nail the penguin walk, but Jenner's quick thinking helped her team score the win.
Next time we play charades, we'll totally be channeling these two talents!