Kendall Jenner is a cozy vision on the cover of "Vogue Turkey"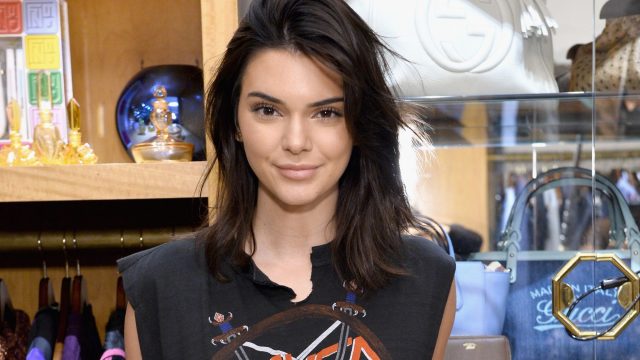 Kendall Jenner is just about the most ubiquitous model these days. So it's no shocker that she just landed her eighth Vogue cover of 2016: Vogue Turkey's November issue. Jenner and Gigi Hadid have been neck and neck in the "Great Vogue Cover Race of 2016." Hadid had secured first place with her cover with her November 2016 issue of Vogue Paris. But now Jenner and Hadid are tied, both with eight 2016 issues of the famed fashion mag under their belt.
The cover of Vogue Turkey displays an ever-stunning Jenner decked out in some super comfy autumn fashion. She wears fall staple fabrics and patterns, like fur and plaid.
But what we really love about Jenner's shoot is how her entire spread is heavily influenced by '70s fashion, as seen in her clothing's print, fabric, and cut.
The cozy-looking sweater dress below is definitely giving off some psychedelic vibes with it's geometric pattern and mustard and rust color scheme.
The opaque black tights nod to the era where solid colored tights were all the rage, but keeping them a neutral black modernizes the overall look.
And let's talk about the fur. The '70s were all about flaunting big fuzzy coats, in beiges, browns, or whites. The leopard print fur is completely on point for the era, and matching it to the belt, really drives the look home.
Lucky for us, Jenner's look is easy to recreate with faux furs usually available in stores like Forever 21 or H&M this time of year.
Finally, the use of layering in Jenner's Vogue Turkey shoot is to die for. The mustard, zip up dress over the white ribbed turtleneck sweater will not only keep you extra warm, but the combo offers a unique way to layer heavy fabrics. Perhaps try layering a set of denim overalls over a chunky turtleneck sweater, or a sweater dress over a cotton turtleneck.
Don't be deterred from layering different weights of fabric. The result can make you look super fashion forward.
The same goes for lightweight clothing as well. Cotton over cotton, or jersey over jersey can make two pieces look like one.
Jenner's olive jersey top under the brown ruched dress, makes the outfit cool weather appropriate and tricks you into thinking that it's a cohesive piece.
If you're trying to pull of that '70s vibe, don't forget to accessorize! Throw on some chunky metal earrings with a long beaded necklace before heading out for the day. Or pair your basic brown or black shoes with some funky colored knee socks. Remember to pair neutrals with neutrals, opt for high-waisted pants, and keep it cozy. Get funky with it!