Khloé says Kendall got so drunk at her 21st birthday, she forgot she got a Rolls Royce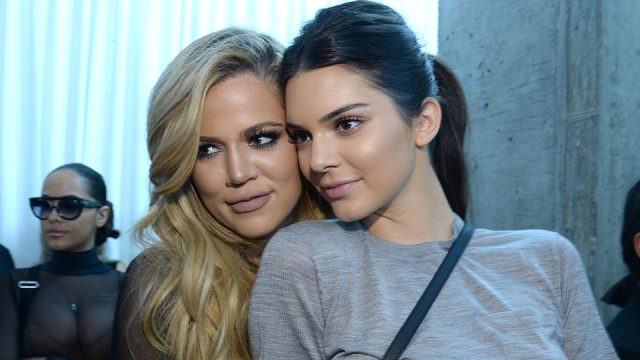 The Kardashian-Jenner clan is known for their hilarious antics and their opulence. Well, their two most well-known attributes came together in spectacular fashion at a wild birthday party, after which, according to Khloé Kardashian, a drunk Kendall Jenner forgot she'd gotten a Rolls Royce the night before. For realsies.
In an appearance on Jimmy Kimmel Live earlier this week, Khloé caught the late-night host up on everything that'd been going on in her and her famous family's lives. She touched on topics like Rob Kardashian and Blac Chyna's expected new baby and Khloé's own new relationship with Tristan Thompson. But by far the funniest anecdote she had to share was related to Kendall's recent 21st birthday festivities – and it sounds like they had a pretty wild night.
"We had crazy celebrations," Kardashian explained to the late night host, which included a birthday dinner at CATCH LA and a huge party at Delilah with all of Kendall's famous friends.
When Kimmel asked about the gift situation, Kardashian launched into the forgotten Rolls Royce story. And – well, we'll just let Khlo explain the rest.
Kardashian-Jenner matriarch Kris Jenner seemingly organized the surprise gift for Kendall's big night, and apparently none of the sisters were in on it (according to Khloé).
But sure enough, the car gifting definitely happened. There's Snapchat proof of it, in fact. Khloé caught the moment on film, for posterity.
https://www.instagram.com/p/BMWJYmKAnWs
Kendall, in her gorgeous (and pricey) 21st birthday dress, seemed fully aware of what was going on at the time, so we're guessing the party got wild and went all out a few hours after the gorgeous luxury car made its dazzling appearance.
According to PEOPLE, Kendall's car-gifting "stranger" that Khloé referred to during her segment seemed to be Saygin Yalcin, the founder of an international online car buying service, who shared a post of his own from Kendall's big bash.
While we mere mortals can't exactly relate to this precise situation – like Khloé, if we got "a dinner and a purse" for our 21st birthdays, we'd thank our lucky stars – we can totally feel the whole drunken-shenanigans aspect of the story. Either way, we're glad to hear that Kendall and her family had an amazing time at her celebration. And fingers crossed she tracked down that car the next day!