This uncovered letter prosecutor Ken Kratz sent to Steven Avery is insane
If you've seen the Netflix series Making a Murderer, you probably recognize (and have some strong feelings about) the name Ken Kratz. He was the primary prosecutor in Steven Avery's trial, ensuring he (and subsequently his nephew Brendan Dassey) was convicted for the murder of Teresa Halbach in 2007.
Kratz has spoken out in the past about how he feels the series presented evidence of the Avery/Dassey case (namely that key evidence was omitted), and is now planning to write a book about exactly what he claims the 10-episode series – which he says painted him in an unfairly villainous light – left out. According to statements Kratz gave to WBAY-TV, he is writing the book "because the one voice forgotten to this point is Teresa Halbach," and is "finally grateful to tell the whole story."
And from what it looks like, Kratz reached out via letter to Avery himself for help in telling said story, under the potential guise of giving Avery the opportunity to "come clean." But according to a letter posted yesterday to the Twitter account of Kathleen Zellner, Avery's new attorney as of earlier this month, it looks like Kratz isn't going to get the information he craves so easily.
In the letter (dated Sept. 6, 2015), Kratz is apparently responding to previous correspondence between himself and Avery – the latter of whom told Kratz his visitor list was full, implying Kratz had requested an in-person meeting with Avery prior to this letter. Kratz tells Avery, "I thought you were interested in being honest about what happened and finally telling the whole story to someone." He also calls Avery's claims of being framed "nonsense about being set up," accusing him of continuing to perpetuate a lie.
Zellner's caption on the post? "Kratz letter to SA:Confess so I can write book & profit.This bloodsucking gives vampires a bad name #MakingAMurderer." So clearly, Zellner (and we're sure many fans of the docu-series itself) thinks Kratz is just in it for the money – which is, of course, a possibility.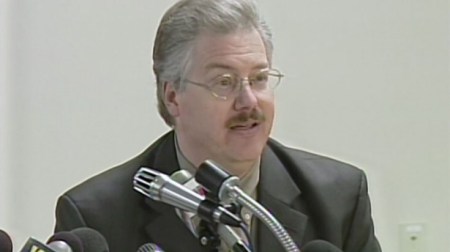 Kratz himself hasn't exactly been out of trouble in recent years, even aside from anything involving the Avery/Dassey case. His law license was suspended temporarily in 2014 – four years after he stepped down as Calumet County district attorney, a position he'd held for 18 years. Kratz's resignation came after backlash he received over a sexting scandal between himself and a 25-year-old client, whom he was working with to prosecute an ex-boyfriend of hers over domestic-abuse allegations.
We're interested in hearing how Kratz's book pans out – and if it does become successfully published, whether Avery or anyone who originally vouched for his innocence (including his ex-fiancée, Jodi Stachowski) will have worked with Kratz to make it a reality.
(Images via Netflix)