Kelly Rowland reminds us that helping families in need goes *beyond* the holiday season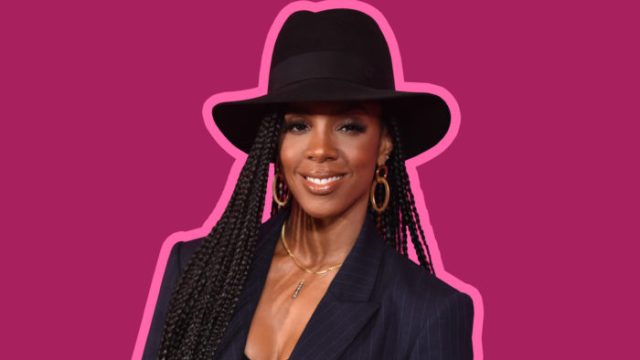 It's not uncommon for giving people to donate toys to children and families in need during the holidays — but what about diapers, especially when one in three families in America can't afford those basic necessities for their children? What about clothes and basic hygiene products for families who are living below the poverty line? That's where Baby2Baby comes in — a nonprofit that provides diapers, blankets, clothing, hygiene products, and other essentials to children ages 0-12 years.
Run by Co-Presidents Kelly Sawyer Patricof and Norah Weinstein, Baby2Baby has donated 20 million diapers and 34 million other basic items to families in need over the past six years. This year alone, Baby2Baby sent 3.6 million items to families affected by the hurricanes in Texas, Florida, and Puerto Rico and the fires in Southern California. Our own Zooey Deschanel, as well as Kelly Rowland, Jessica Alba, Kerry Washington, and Drew Barrymore have all worked with the organization to make sure parents and their children can live comfortably.
Through the Family2Family program, the nonprofit's supporters are matched with a family during the holiday season in order to fulfill wishlists of presents and basic essentials for those children. On December 17th, I attended The Baby2Baby Annual Holiday Party presented by Toys"R"Us at Montage Beverly Hills, where nearly 100 families served by the nonprofit gathered to celebrate the holiday season. Baby2Baby's celebrity angels, including Kelly Rowland, Jessica Alba, Julie Bowen, Michelle Monaghan, Rachel Zoe, and Rebecca Gayheart, were at the event to meet the families they had "adopted" for the holidays. They surprised those families with gifts, as well as bundles of pajamas, blankets, shoes, and winter clothing.
At the holiday party, children could get creative at an arts and crafts table, take photos on Santa's lap, eat from a huge buffet of delicious food, watch a Nutcracker-inspired live ballet performance, get haircuts from Paul Mitchell stylists, and choose gifts to take home from a Toys"R"Us pop-up shop.
At the celebration, I chatted with Kelly Rowland — singer, member of Destiny's Child (aka one of the world's all-time best-selling girl groups), author, mother, and Baby2Baby angel — about her work with the organization.
HelloGiggles (HG): What inspired you to first get involved with Baby2Baby?
Kelly Rowland (KR): I got involved with Baby2Baby actually when I became pregnant. I remember meeting Kelly Sawyer Patricof and Jessica Alba [at the gym] when I was on the treadmill, and they were on the treadmill. Jessica's like, "People [and brands] are going to send you a lot of [free stuff because you're pregnant]…And some of those things you won't use, and the things you won't use, there are mothers and babies who need them." It was immediately knowing that I have to make sure that my mommies and babies in the L.A. area are okay.
I found that to be incredibly inspiring and incredibly selfless, because we could have talked about everything else under the sun and she got right to the point. I really appreciated that. She started telling me about Baby2Baby and I was like, "Oh, my God. I would love to know more about it," and she sent me all the information. I went to the Baby2Baby gala, and I looked at my husband and I was like, "We're here every year. We need to figure out what else we need to do, and who else we need to tell about it." I became a Baby2Baby angel. I let everybody know about it. It's just one of my favorite organizations.
HG: Did your experience writing your book, Whoa, Baby!, inspire you as well?
KR: Oh, for sure. I just think about all the support you need as a mother. You know what I mean? For me, it was the support. You need a circle of women around you who are holding you up, who are helping you when you don't know what you're doing. Being a mother doesn't come with an instruction pamphlet. You have to figure this out on your own, and can you imagine trying to figure out how you're going to make sure your baby has diapers and food, these basic necessities? That's what Baby2Baby is doing.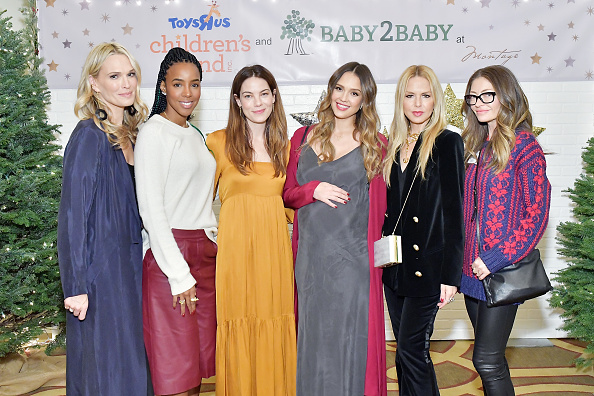 HG: Is there a specific moment from your work with Baby2Baby that has really stuck with you?
KR: I love the Mother's Day event. Of course, this [holiday party] is awesome, but the Mother's Day events just make me so happy. I feel like, as a mother, you're always giving, giving, giving, giving, giving — you have to pour back into yourself. Baby2Baby pours back into the mothers, because they know the things that they're thinking — you know what I mean? I love that event. It's my favorite.
HG: What would you like to say to all of the mothers and families you're helping today?
KR: Thank you for trusting this organization. Thank you for trusting Kelly [Sawyer Patricof] and Norah [Weinstein]. This is their vision. Thank you for trusting them with yourself and your emotions and your feelings and your needs. That's real for a mother to say, "I know this person is going to have my back." You know what I mean? That means a lot.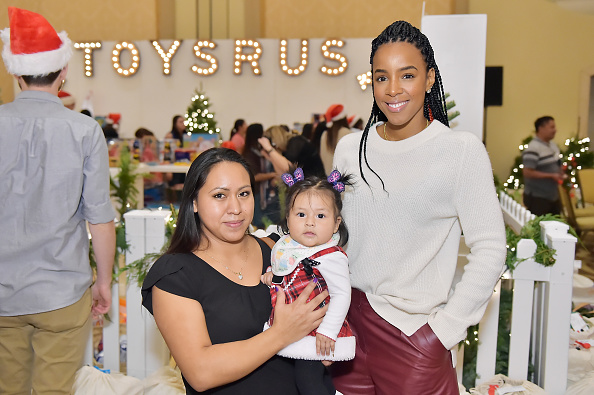 I want to thank them for coming out today. It's a joy to be around them and their children, and they inspire us more than anything. It makes you want to work harder because you want to continue to help and do what you can on your end to make sure that people know [that mothers and children need assistance]. To make sure that people are supporting and aware of what's going on — because they really don't know. There are so many things that happen on a day-to-day level…You don't realize how everything just starts to add up, and here we are in all these different crises — and all of them have to be taken care of. And it starts with the head [of a group]. You know what I mean? I say that in any business, in any organization. Everybody cares because [Baby2Baby Co-Presidents] Kelly and Norah care so much, and they have everybody on their team who cares so much. It starts with the head, no matter if it's a country, organization, or corporation. We have to have people around who care and who really want to see some transformation and change.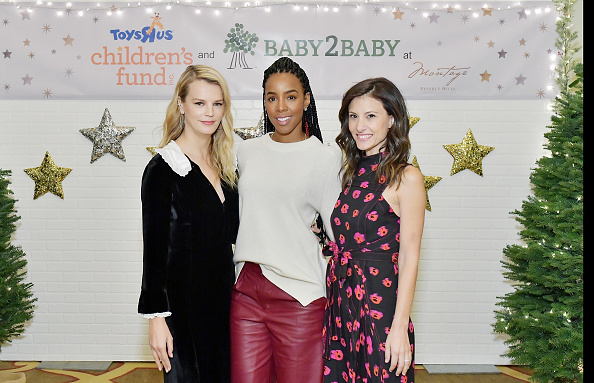 Find out more about Baby2Baby and learn how you can help.