John Boyega has no time for the internet trolls harassing Kelly Marie Tran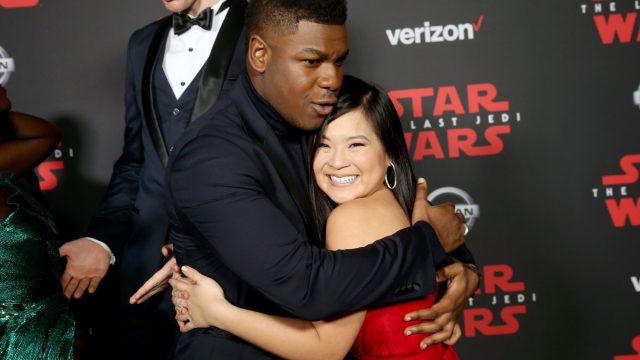 The galaxy far, far away has no room for trolls. John Boyega is the latest member of the Star Wars family to speak out against the harassers who forced Kelly Marie Tran off Instagram due to repeated abuse. Last week, the actress, who plays Rose Tico in the franchise, made headlines after completely wiping her Instagram page, leaving only her wonderfully optimistic bio, which reads, "Afraid, but doing it anyway." 
Tran left Instagram after months of harassment by racist trolls online, who've done everything from changing Rose's Star Wars Wookieepedia name to "Ching Chong Wing Tong" to leaving hateful comments on her Instagram.
While Boyega didn't mention Tran by name, the First Order deserter took to Twitter on June 12th to chastise Star Wars fans for harassing stars of the franchise. Boyega, who is no stranger to racist harassment from Star Wars "fans," reminded his followers that the actors and actresses don't make the decisions about their characters.
He also pointedly added that paying for a ticket does not give so-called fans a pass to rudely troll the Star Wars cast and crew.
"If you don't like Star Wars or the characters understand that there are decisions makers and harassing the actors/ actresses will do nothing. You're not entitled to politeness when your approach is rude. Even if you paid for a ticket!" Boyega said. "To the majority of Star Wars fans thank you for supporting and putting yourselves in our shoes. You understand that there is a process so much appreciated!"
Boyega's rebuke of the Star Wars trolls comes just days after The Last Jedi director Rian Johnson and longtime franchise star Mark Hamill spoke out about the harassment of Tran.
After making a swift jab at the "manbabies" throwing their hate toward Tran and the rest of the cast and crew, Johnson took the time to highlight fans who've shown love and support for the franchise — even when they've disagreed with decisions. He tweeted, "On social media a few unhealthy people can cast a big shadow on the wall, but over the past 4 years I've met lots of real fellow SW fans. We like & dislike stuff but we do it with humor, love & respect. We're the VAST majority, we're having fun & doing just fine."
false
Hamill's response was more direct. He tweeted a photo of himself and Tran, with the hashtag #GetALifeNerds. Like Johnson, the legendary actor also tweeted support for #FanArtForRose, a positive campaign in which fans posted fan art of Tran's character, Rose, in support of the actress.
For many, the harassment against Tran has become emblematic of the overwhelming toxicity surrounding the Star Wars fandom as a whole. While The Last Jedi was lauded by critics — currently holding a 91% fresh score on Rotten Tomatoes — the film was the subject of a smear campaign by an alt-right men's group, which claimed responsibility for bringing the fan score down to a meager 46% in response to the film's feminist message.
We're so glad to see Tran's fellow Star Wars cast and crew members, not to mention the real Star Wars fans, sharing their support for the actress and her character. It's been so disappointing to see the Star Wars franchise weighed down by hate, and we're so glad to see the true Star Wars community work to rise above it.