What is Olympic snowboarder Kelly Clark's net worth? She's sitting on a pretty penny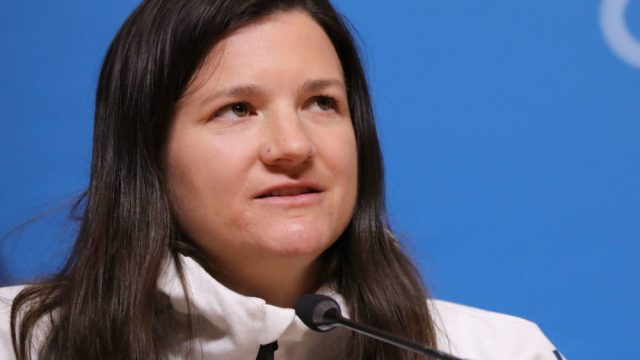 U.S. Olympic snowboarder Kelly Clark became a household name way back in 2002, when the then-18-year-old won her first Olympic Gold Medal for women's halfpipe. So, what is Kelly Clark's net worth today? After all, the fierce champion is *still* out there on the slopes, mentoring the next generation of rockstars like teammate Chloe Kim. And after five Olympic games (!!!), Kelly Clark is probably athlete #goals. Let's take a look…
Clark has appeared in five consecutive Winter Olympics and brought home medals from three of them.
The amazingly badass snowboarder took home Gold from Salt Lake City, Utah in 2002, a Bronze medal from Vancouver in 2010, and Bronze from Sochi in 2014. Her signature event is the women's halfpipe. Oh, and in 2011, she became the first-ever woman to land a 1080 (in other words, a triple spin!) in competition, according to her Team USA bio.
As for this Olympic go-around, Clark placed fourth at the 2018 Pyeongchang games, but she isn't letting that hold her back.
As ESPN points out, snowboarders aren't always the highest-paid athletes in professional sports. It often takes an extremely high-profile rider for companies to consider endorsing them at all. But Clark is currently partnered with *multiple* companies. And her current sponsors include athletic companies, high-end speakers, and more. YOU GO, GIRL!
Clark's website proudly lists her current sponsorships; the brands she's partnered with include Burton, Bose, Mammoth Mountain resort, and the official U.S. Snowboarding Organization. In addition to her largest endorsements, she's received a bonus from the U.S. Olympic Committee with every medal, and she's posted ads for cereal company Kellogg's to her social media accounts.
The snowboarder is *also* incredibly generous, awarding thousands of dollars in scholarships to up-and-comers every year.
It offers scholarships to aspiring athletes in financial need. And she awarded "$125,000 in grants and scholarships" as of December 2015, per her official Team USA bio. So, all things considered, what is Kelly Clark's current net worth? She's never formally released numbers and, for more perspective, Business Insider doesn't estimate that she's in the top five highest-paid U.S. Olympians participating in the 2018 Winter Games.
Altogether, it seems safe to place Kelly Clark's net worth in the neighborhood of $1-2 million, considering the Business Insider estimates and the length of her pro career. Just another way the women of Team USA are inspiring AF.