Keiynan Lonsdale's "Best Kiss" acceptance speech at the 2018 MTV Movie & TV Awards will make you sob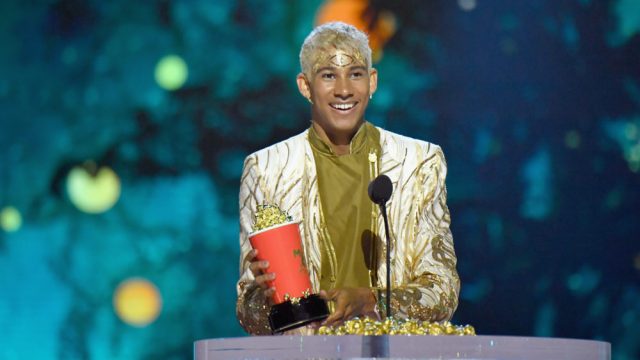 Love, Simon was one of the most heartfelt teen love stories in years, as well as proof that audiences are more than ready to see LGBTQ love, representation, and acceptance on the big screen. Which made it all the more special to see the movie win "Best Kiss" at the 2018 MTV Movie & TV Awards, with actor Keiynan Lonsdale taking the stage to accept the award on behalf of himself and his costar, Nick Robinson (holla, Ferris wheel kiss).
Lonsdale used his moment on stage to share a message of love and acceptance for "every kid," and his words will definitely make you reach for a tissue. Lonsdale said, "First of all, I know Nick really wishes he could be here, because I know he would be so grateful for this moment."
He added, "I just want to say to every kid, you can live your dreams and wear dresses. You can live your dreams and kiss the one that you love no matter what gender they are. You can live your dreams and you can believe in magic, you can live your dreams and you can be yourself."
Lonsdale's acceptance speech was met with powerful applause from the audience, and an equally powerful response on social media. false
https://twitter.com/udfredirect/status/1008899649619427328
false
Immediately after his win, Lonsdale told an MTV News reporter that it's a "really beautiful moment" and that he hopes the film and the kiss inspires others.
We know we are inspired by Love, Simon and everything it represents. We can't wait to see more from both Lonsdale and Robinson and hope this will serve as a notice to Hollywood that we want more LGBTQ+ representation on our screens.