Katy Perry's upcoming shoe line is even CUTER than we imagined
Walking a mile in Katy Perry's shoes would be a strenuous task for anybody. It would be hard in the metaphorical sense because of her super busy career, but more pressingly, walking a mile in her shoes would be painful because of the fashion-forward cropping of straps and heels.
Fully confirming this theory, the reigning shoe queen Perry has just revealed her new line of shoes and they are as ridiculously technicolored and playful as you would imagine. The international pop-star surprised fans with the launch at the FN Platform show in Las Vegas — which feels fitting since Vegas is one of the few cities that can match her glitter-and-gold sensibilities.
As MTV News reports, the full line of shoes can be comprehensively lusted over at the Fun Magazine website, where you'll quickly find yourself transforming into the sexy version of a Candy Land character as you skim the elaborate selection of shoes which include stars, Rubix cubes, animal prints, evil eyes, and even a pair of Marabou cha-cha heels that Dawn Davenport would kill for. According to Footwear News, the collection ranges in price from $59 to $299.
But truly, since we found out the whipped-cream loving California dream herself was due to release a vibrant line of shoes into the wilderness our curiosity has been piqued. The wide-array of designs she's unleashed can cater to a variety of moods.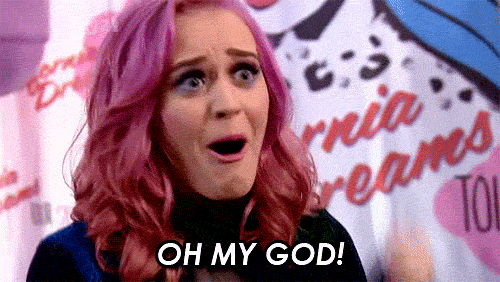 If you want to give off throwback Disney channel original movie Zenon: Girl of the 21st Century vibes, you can rock her silver platforms. Or if you wanna channel a film-noir vixen ready to throw down, maybe don her stilettos that kiss the Milky Way. And if you're feeling sassy, but wanna flex your superior puzzle-solving abilities, there's a Rubix cube-inspired pair that can effectively intellectually intimidate your peers while revealing your bold fashion sensibilities.
Go ahead and check out the line and see what fits YOU best!