Feast your eyes on Katy Perry's saucy, sexy, NSFW "Bon Appétit" video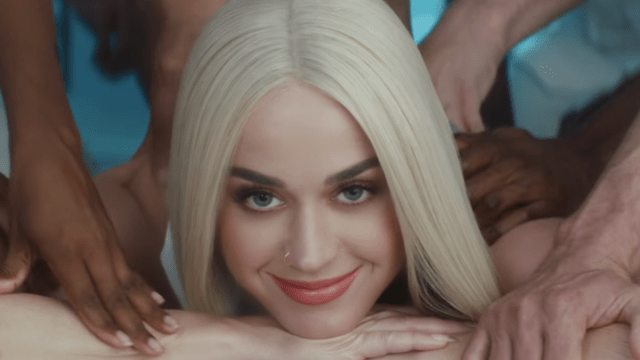 Katy Perry's NSFW music video for "Bon Appétit," featuring Migos, has arrived, and it turns up the heat — literally.
The video puts the pop star at the center of a meal, as chefs cover her in flour and vegetables, place her in a broth of some kind, boil her, baste her, chop off her luscious blonde locks, and more — shoutout to chef Roy Choi, who gives his sign-off on the meal before Perry is taken over to a dining table. She lays down with garnishes covering her, thus appearing very appetizing to a seemingly hungry crowd.
https://www.youtube.com/watch?v=dPI-mRFEIH0?feature=oembed
Presentation is everything, right, foodies? But the tables quite literally turn at the ring of a bell. That's about all we can say without saying too much, so just be sure to watch the video — directed by Dent De Cuir and available above — through to the surprise ending. In the meantime, check out Perry's tease that things might not be what they initially seem.
What's more, you can watch Perry's live stream (with a cameo from her adorable pup, Nugget) in celebration of the new release, in which she answers fan questions.
https://www.youtube.com/watch?v=0f5C5Rh0F6w?feature=oembed
We love how Perry continues to reinvent herself with her music and subsequent videos — and can't get enough of "Bon Appétit"!