We want to wrap ourselves in Katy Perry's post-Met Gala sequin cape
Sometimes more really is more. In the case of last night's Met Gala, which was honoring designer Rei Kawakubo of Comme des Garçons, more was definitely more. We're especially fond of the loud looks from the night, and Katy Perry was one celebrity who really let her freak flag fly.
At the Met Gala after-party, Katy Perry looked especially interesting in a Ulyana Sergeenko Couture cape and lingerie concoction. Katy looked like a mix of a burlesque star, a boxing champion, and Cleopatra — and honestly, we kind of love it. The standout piece from this look. though, has to be the sequin cape because, come on, it's a sequin cape!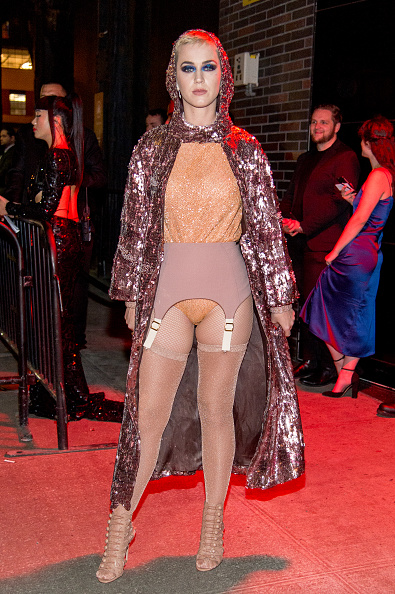 So besides the fact that Katy pulls off a sequin cape, can we just recognize that she pulls off a *hooded* sequin cape, in a blush pink nonetheless? And she's wearing it with a muted orange-jeweled bodysuit. And no, she's not wearing pants.
We also love that Katy's bringing back the garter belt (a majorly understated piece of lingerie, if we do say so ourselves). Everything in this look is shining, from the cape to the thigh-high stockings in gold. Finished with a nearly invisible Gianvito Rossi caged sandal, this look is fire.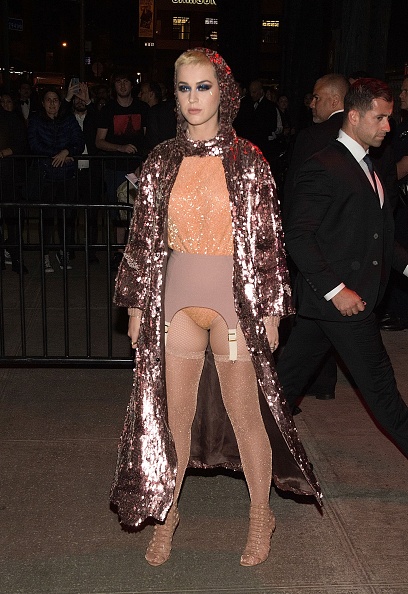 And even though this outfit is full of warm, shimmering hues, we love the cool contrast in Katy's Pat McGrath makeup. The blue eyeshadow looks perfect without feeling overwhelming. If you're going to be a bold, glittering goddess, you may as well commit and make a statement with your makeup, too!
This whole look makes us feel like we're staring at something from outer space. Throwback to Katy's ET days perhaps? Either way, we love it!