YASS: Katy Perry accessorized her Met Gala look with a Tomagotchi
If you're still trying to process all the fashion magnificence that went down last night at the Met Gala, rest assured. You're not alone. The theme of this year's fête was "Manus x Machina: Fashion in an Age of Technology," and the attendees were ALL ABOUT IT. From Mindy Kaling's color-changing Swarovski crystal handbag to Claire Danes' light-up Cinderella gown, celebs crushed it with their interpretation of theme.
But our fave just might be Katy Perry, who went adorably retro with her nod to tech. After all, Perry wore a light-up gown to the Met Ball way back in 2010 that ALSO changed color, so she had those bases covered years ago, guys. This year, Katy did things a little simpler: She wore a Tomagotchi dangling from the belt of her fancy pants gold-trimmed Prada gown. In this photo, you can see it behind the thing that looks like a wallet: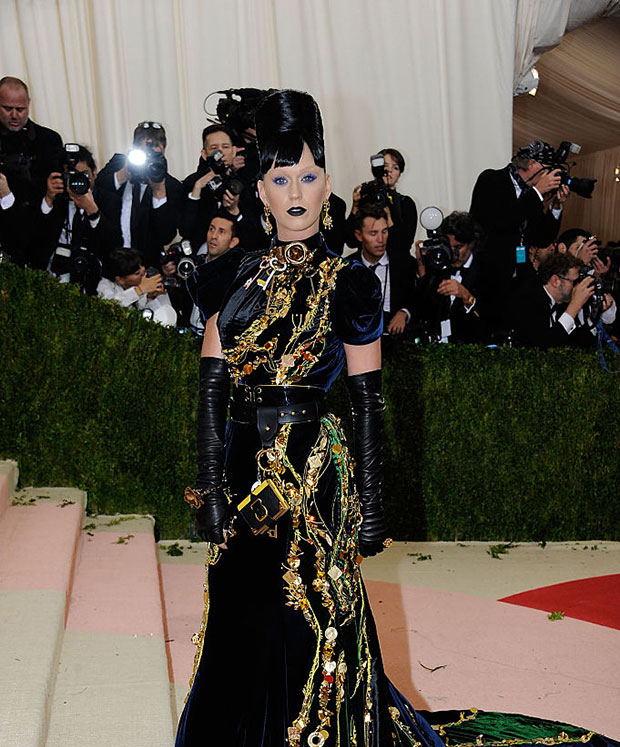 We're not even joking. Katy straight-up brought her Tomagotchi to the Met Ball. Props to her for being a responsible digital pet owner! I mean, that Tomagotchi probably would have gotten hungry if she'd left it home alone.
We absolutely adore this tongue-in-cheek nod to the theme, which she called "humble, but tech," in her red carpet interview with Vogue's André Leon Talley.
As if one Tomagotchi at the Met Gala wasn't already awesome enough, Orlando Bloom, Katy's S.O., wore a matching one attached to the lapel of his tuxedo jacket (which may or may not have been pooping on the red carpet, just sayin'). Ugh, the cuteness! We can't even handle it. Do you suppose tending to their Tomagotchis is how these two spend their date nights? (Please let this be true.)
From what Katy told People, it sounds like she's been waiting for the perfect opportunity to take her Tomagotchis for a spin. She said, "I've had two Tamagotchis located in Connecticut and I just feel a little like … like I'm in tech but I'm not playing your game. But I've been keeping these bitches alive since '96."
YAAAS. #queen