Katy Perry told Orlando Bloom he looked like Jennifer Aniston in our most favorite Insta post of the week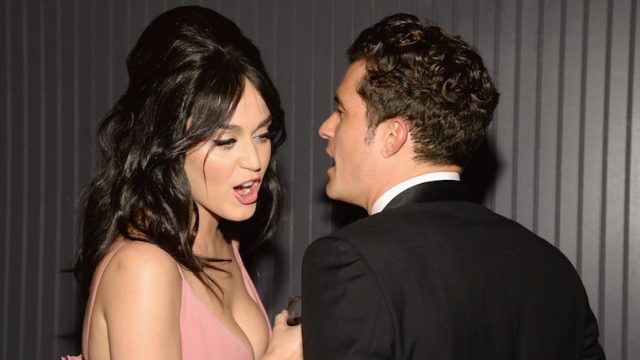 Okay, if it wasn't crystal clear before…we now have absolutely no doubt that Katy Perry and Orlando Bloom are a swoon-worthy couple! Their latest Instagram exchange saw Perry compare her BF to Jennifer Anison, and if you're formulating questions in your mind like "WHAT? HOW?" — don't worry, we're about to explain everything.
One of them showed off his long blonde locks, and this prompted Perry to make a quick observation. Are you ready to see Bloom as his 24-year-old self? Yeah, we thought so.
Oh Legolas, we've missed you terribly!
Can't believe it's the 15th anniversary. Feels like yesterday when we saw this face smiling at us…
Okay, now here's Perry's comment (at the very top).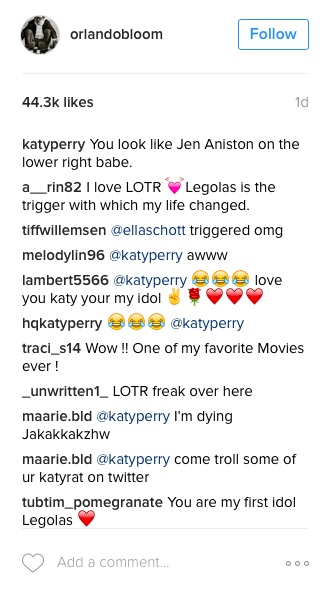 "You look like Jen Aniston on the lower right babe."
Awwwww. We just love how Perry playfully teases him! And granted, Legolas WAS channeling some inner-Rachel vibes.
And there's nothing wrong with that. It's a Friends throwback disguised in a LOTR throwback! Thanks, buddy!
But seriously, we're crushing soooo hard on this power couple. Last month they wore matching pajamas on Thanksgiving (and immediately we lost our minds/went out to buy pajamas) and recently they dressed up as Mr. and Mrs. Claus to visit sick children, because their hearts are endlessly filled with love.
Wishing these two lovebirds/jokers some very Happy Holidays!
H/T: Us Weekly