Katy Perry spent the night at Paris Hilton's mansion, and she totally freaked out about it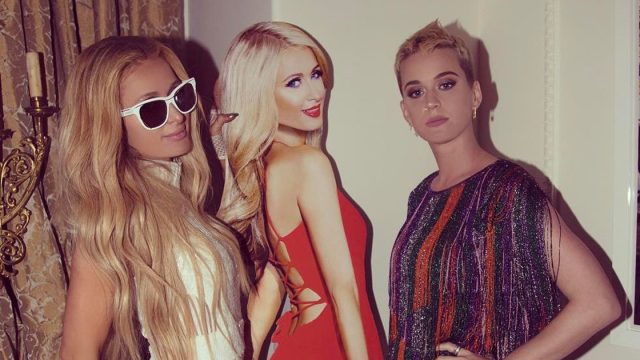 What would you do if you got the chance to spend an evening at Paris Hilton's house? Well, if you're Katy Perry, you'd totally freak out about it.
Judging by social media, it seems that Paris Hilton had a bit of a get-together at one of her luxurious and over-the-top homes. The OG Queen of the '00s, who is also quite voracious when it comes to social media (hey, she did claim to invent the selfie), shared some video clips of the night's antics, and a certain Ms. Perry was shown getting very, very overwhelmed by what was going on. Tbh, if we spent the evening at Paris Hilton's house, we, too, would totally freak out.
Joined by the likes of Iggy Azalea, Bella Thorne, and Sofia Richie, Perry was completely in awe of all things that she was seeing Hilton's home. In particular, the singer seemed pretty taken with a giant mosaic of Paris Hilton's face, and who wouldn't be!?
"Waking up to this today made my day Love you @KatyPerry! You are such a beautiful magical #Queen! ," Hilton wrote on Insta, before sharing a video of Perry's excitement.
Perry also shared the fact that she was totally stanning after Hilton on her Instagram Stories. false
The singer also got to explore Paris Hilton's dog house. That is, quite literally, a house purpose built for her multitude of dogs.
If we're being honest, if we got a guided tour around Paris Hilton's massive mansion by the celebrity DJ herself, we would also be losing our minds, so we're totally relating to Katy Perry in this scenario.
Meanwhile, yesterday as a big day all around for Ms. Perry. The singer also announced that she was going on a massive tour and finally revealed that her fourth album, Witness, would be out on June 9th. We're just hoping that one day, she might consider a duet with Paris, because that'd be so hot…