Katy Perry sent her fans a recipe for cherry pie, but what does it mean!?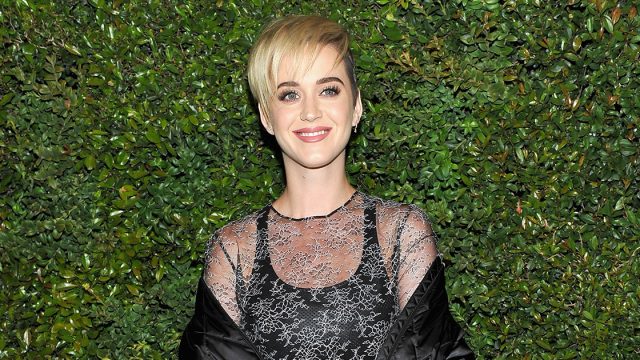 If you're into baked goods (c'mon, who isn't into baked goods, right?), then you might want to head over to a certain Ms. Kathryn Hudson's social media accounts. Basically, Katy Perry is asking fans to bake cherry pie, and WHAT DOES IT ALL MEAN!?
Given that Katy Perry is currently in the middle of the (lengthy) beginnings of the campaign for her fourth album, we're thinking that the singer might be plotting something musical. Earlier this year, the singer shared the lead single from the campaign, the purposeful pop song "Chained To The Rhythm." The track's video was a typical KP affair, except that hidden beyond the seemingly bubblegum and cartoonish exterior was a message of anti-conformity.
https://www.youtube.com/watch?v=Um7pMggPnug?feature=oembed
While the singer has performed the song a couple of times with two rather politically charged performances at the Grammys and the BRIT Awards, she has also been rather quiet. We've heard about Hillary Clinton wearing the shoes that Perry designed for her, but we've heard nothing new about #KP4. 
However, it seems that something strange is now going on with Katy Perry on social media.
Yesterday (24th April), fans of the singer noticed that they'd been sent an email containing a recipe for cherry pie. Soon after, Perry shared the recipe on social media, too.
"Bake me a pie and you may get a surprise 😉🍒," she wrote on Twitter.
Of course, when a pop goddess asks her fans to do something they usually do it, and it seems that fans have been sending KP pictures of their cherry pies (with some varying success).
After reading the recipe, and with the term "Bon Appétit" being bandied around, we've got a couple of theories as to what Katy Perry might be up to.
Firstly, some have suggested that Katy Perry might have a cameo in the upcoming reboot of Twin Peaks, which while possible, we're not holding too much credit to.
https://twitter.com/udfredirect/status/856769368486707200
Secondly, the singer is teasing some new music. Given that "Chained To The Rhythm" came out in February (!), it seems fitting that a few months later we might be getting a second single.
In fact, some eager KatyCats even noticed that one of the songs that Perry has been teasing on social media contains the phrase "Bon Appétit." false
There's even speculation that the track might feature a follow vocal powerhouse, Ariana Grande. false
Fans are speculating that the track is set to be released this Friday (April 27th), and we're SO excited to see why Katy Perry has people cooking up a storm (or cooking up some cherry pies).
Hopefully more of this mystery will be revealed soon…