Katy Perry looked like a garden mermaid in this sparkly floral dress, and we're obsessed
It's basically common knowledge that we're kinda obsessed with Katy Perry (but, like…the healthy kind of obsessed?). In fact, we already freaked out this weekend over Drew Barrymore fangirling over her on a recent red carpet (seriously, if you haven't seen it look them up now. Perfection).
Her style ranges from bright and flirty to totally classic elegance — often in the span of just a few days, and she always somehow manages to infuse her ensembles — no matter what the occasion — with a super personalized flare, whether it's a hint of sparkle or a pop of unexpected color.
So needless to say, we're obsessed with (though not surprised by) how STUNNING she looked in this champaign Marchesa gown with floral embellishments.
"Felt like a fairy godmother last night"
We couldn't have said it better ourselves — because she seriously looks MAGICAL. The elegant high neck. The mermaid cut. The hints of sparkle. We're absolutely all about this.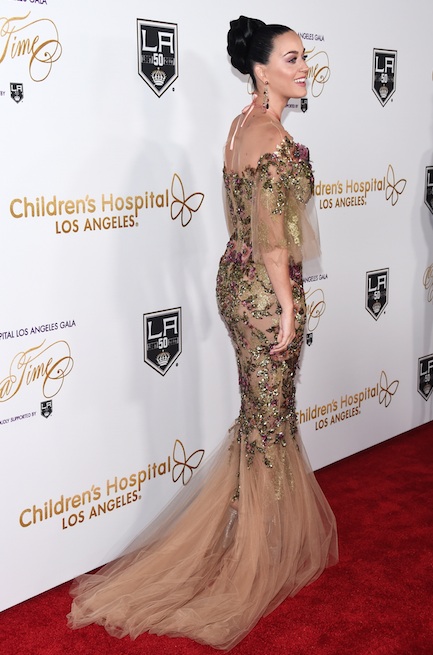 And if we didn't already love Katy enough, the event was for a totally amazing cause — raising money for the LA Children's Hospital. ET reports that Katy said,
 "I had a life-changing experience of my own when I got to visit the Children's Hospital in December. I got to see their music therapy program, which is basically where a bunch of musicians come and play to patients. They play to premature babies in the NICU up to adults, all of it.
She continued,
And this is why we REALLY love Katy — because she's just as beautiful on the inside as she is on the outside.