Katy Perry just got very real about sexuality — and doing more than just kissing girls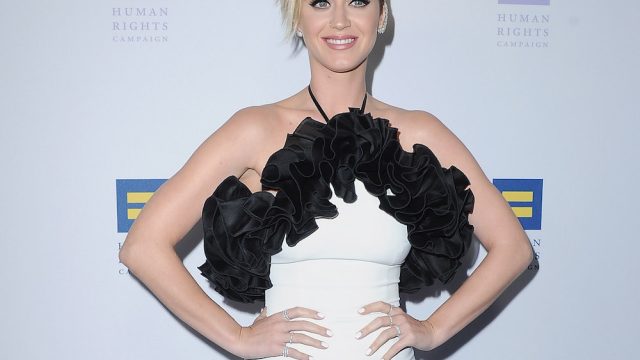 Everyone started singing along immediately back in 2008 when Katy Perry's "I Kissed A Girl" first hit the radiowaves. For a lot of us, it was one of the only songs we were hearing about girls kissing girls and we snatched it up and held it close to our hearts. A few others were a little more wary about accepting it as representation.
After all, Katy mentions a boyfriend in the song, and a lot of people figured the track was just a little lighthearted fun rather than any actual sexual exploration. It didn't help that, in one interview, Perry denied ever having kissed a girl. "I'm not a lesbian, but I can appreciate the beauty of women. That's what the song is about: me opening up a magazine and seeing Scarlet Johansen and saying, 'If she wanted to to kiss me I wouldn't say no,'" Perry told TheNewGay.net. "It's fantasy. It's a song about curiosity."
But slowly, over the years, the truth started to come out as Perry became increasingly comfortable discussing her sexuality. In 2011, Katy Perry covered Vanity Fair and admitted that she did kiss a girl.
Vanity Fair writes: "Perry admits she didn't discuss it honestly at first because a couple of 'sleazy' male journalists made her uncomfortable. 'So I said no, I hadn't experienced it, even though I had, because I didn't like where the guys were taking the interviews.'"
A couple of years later, Katy is ready to share once again.
Not only did she kiss a girl.
At last night's 2017 Human Rights Campaign Los Angeles Gala, she opened up while accepting her National Equality Award. When she released "I Kissed a Girl," it was to start an international conversation.
"Truth be told, I did more than that!," she admitted. "But how was I going to reconcile that with the gospel-singing girl raised in youth groups that were pro conversion camps? What I did know was that I was curious, and even then I knew that sexuality was not as black and white as this dress. But in 2008, when that song came out, I knew that it started a conversation that a lot of the world seemed curious enough to sing along to it."
She even tried to "pray the gay away" at religious summer camps. But then she started to meet a diversity of people.
"These people were nothing like I had been taught to fear. They were the most free, strong, kind, and inclusive people that I have ever met, she said. "They stimulated my mind, and they filled my heart with joy, and they danced with joy while doing it. These people are actually, magic, and they are magic because they are living their truth...Priceless lessons happen large. The path of discovery has made me, has tested me, and forever changed me. You don't get to choose your family, but you can choose your tribe. I stand here as real evidence for all that no matter where you came from it is about where you are going, that real change, real evolution, and that real perception shift can happen, if we open our minds and soften our hearts."
We love these words. And we love that Katy is being brave enough to talk about her experiences, reconciling her own sexuality with her upbringing, and finding her voice.
"No longer can I sit in silence," Perry said. "I have to stand up what I feel is true and that is equality and justice for all, period."