Katy Perry's Golden Globes hair launched a Bumpit revolution
If you watched the Golden Globes on Sunday, you probably caught the adorably awkward conversation between Jennifer Lawrence and Katy Perry. But just in case you didn't, Katy is one of J-Law's biggest fans, and she was pretty pumped to meet her — and after hugging her, the two started talking about Katy's hair and how she got that beautiful bump so big.
"I have a bumpit in here," she said. "Like an 'As Seen on TV' Bumpit."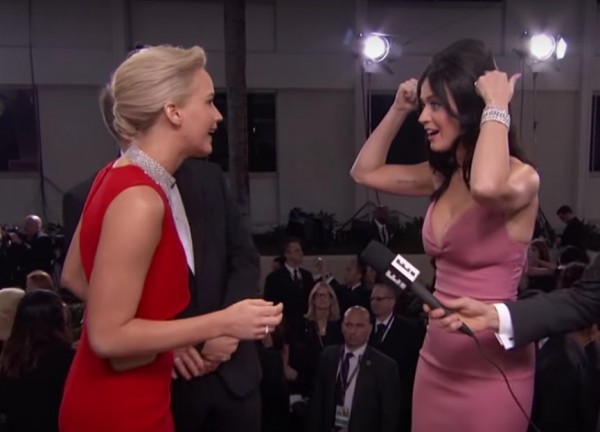 The cutest. But let's talk business here. Even though this was an small (yet adorable) mention on television, it was still the equivalent of an endorsement from one of the biggest celebs at a massively famous awards ceremony, and you can bet that the folks over at Bumpit are pretty darn pumped, to say the least. In fact, the inventor of the Bumpit, Kelly Fitzpatrick Bennett, told TMZ that the mention has generated "such insane interest" that the product may be back on the shelves for the first time in three years.
The Bumpit was invented back in 2008, and it made it big in 2009 and 2010, but seven years later, many of us had totally forgotten about it. . . until Katy reminded us, that is. "It's funny, becuase just a couple of weeks ago. . . we were talking about a comeback, and then a secondary product, and we're just getting ready to possibly reintroduce it," Kelly told KMJ Now. "So it's getting so much attention, I feel like it's our big drumroll, you know?"
Since Katy's convo with J-Law, it's been a crazy couple days for Kelly and the Bumpit crew. "It was a pretty fun 48 hours, and my phone just started blowing up about the Golden Globes. . . It's crazy, every major fashion magazine has tweeted or written a story about Bumpits in the last 48 hours," Kelly told KMJ Now. "It's mindboggling."
https://www.youtube.com/watch?v=gQnDTeIj2zg
Who knew that an adorably awkward conversation could lead to some serious reliving of '00s memories? Perhaps we'll be seeing folks using Bumpits all over the place in the next coming months. In the meantime, rewatch the As-Seen-on-TV ad for Bumpits circa 2009 for a blast from the past here.
(Image via YouTube.)