Katy Perry looks like a chic lady liberty as she casts her early voting ballot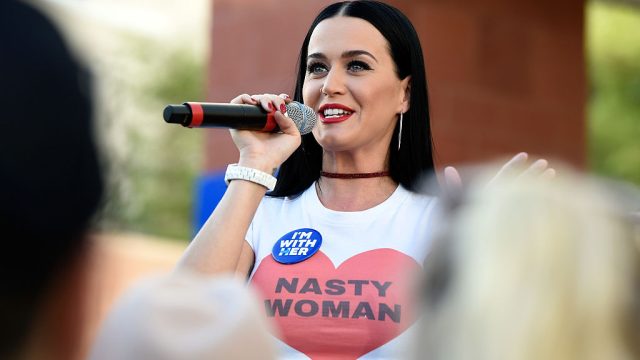 In case you haven't heard, you can now vote early in many states. Tons of people, including Katy Perry, stepped up and cast their ballots early. Katy Perry celebrated her 32nd birthday yesterday with bacon cake (yeah, that sounds amazing). And she also celebrated by casting her early voting ballot in this 2016 election. Katy Perry has been a vocal supporter of Hillary Clinton for a long time. In fact, this time last year, Katy gave Hillary a necklace that said "POTUS" for her birthday. And just this past weekend, Katy was in Nevada, campaigning for Hillary.
As Katy Perry cast her early voting birthday ballot, she looked like a fabulous lady liberty in red, white, and blue.
"GAVE MYSELF THE BEST BIRTHDAY PRESENT EVER BY VOTING TODAY❗️Wish @hillaryclinton a Happy Birthday tomorrow with your EARLY vote. Check www.rockthevote.com to see where your poll is. 🎂🎁🇺🇸 #HBDTOME #HAPPYBIRTHDAYHILLARY #SCORPIOSISTERS"
That's right, Katy Perry's and Hillary's birthdays are right next together. We wish we could be a Scorpio sister with either of those awesome ladies. Furthermore, we are totally floored by Katy's fabulous red and white striped tuxedo coat with the fabulous blue and white stars interior. And um, we want that stunning American flag purse.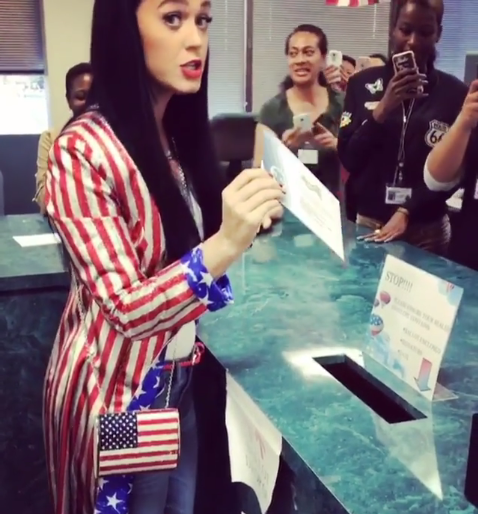 As she casts her ballot, Katy says, "Happy birthday to me, and happy birthday to you, HRC."
And of course, we love her sly look as she drops the ballot into the box. Notably, she doesn't straight up tell us that she voted for Hillary, but we're pretty confident she voted for her. How exciting to vote for (potentially) the first female president!
And Katy isn't the only person who can vote early!
As Katy says in her caption, check out the Rock the Vote website to find out information about your polling place and early voting information.
Because everyone's vote matters!