Katy Perry and Orlando Bloom dressed up as Mr. and Mrs. Claus for sick children, and we're so inspired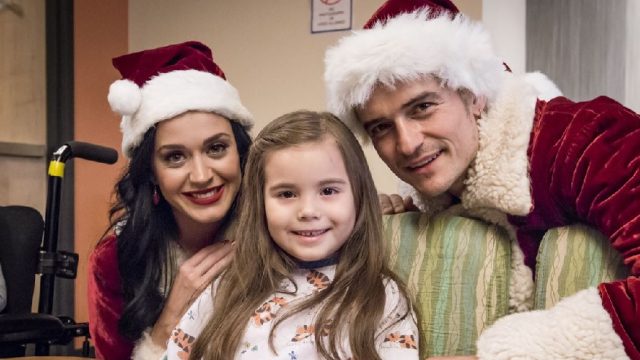 Know who's truly feeling the Christmas spirit? One of our favorite couples, Katy Perry and Orlando Bloom, aka The Claus Family. Perry and Bloom dressed up in red as Mr. and Mrs. Claus to visit sick children in the hospital this year, and we think the gesture is so sweet.
The couple visited Children's Hospital Los Angeles last night, and according to the staff, they were a welcomed addition.
Based on the photos that were posted on their Facebook page, it was obvious that these two brought a lot of positive morale.
Also? They naturally look good in red. Watch out, Santa — Orlando Bloom might be interested in taking your place some day.
Here are a few heartwarming shots from their visit:
Above, Bloom is interacting with baby Zion, who is probably wondering why Santa decided to shave off his beard this year.
This trio is all smiles. What an incredible photo!
This little cutie fell asleep right in Bloom's arms, which is simply adorable.
According to the hospital, Bloom treated his audience to a drum solo at one point.
Laughs were had, as Perry and Orlando warmed themselves (kind of) by the fireplace.
Nobody knows how to bring a little cheer like Katy Perry.
And of course, it's not Christmas without a few carols.
We find these pictures to be truly inspiring.
It's great that Perry and Bloom would take time out to help make a difference, and bond with these children, who surely appreciated the wonderful visit.
If you're also feeling inspired by all of this joy, the Children's Hospital Los Angeles always accepts both monetary donations, as well as toys for their patients. Consider sending something over this season if you can, so that these beautiful kids can keep smiling!