Katie Sowers will be the first female and first openly gay coach in Super Bowl history, so let's cheer her on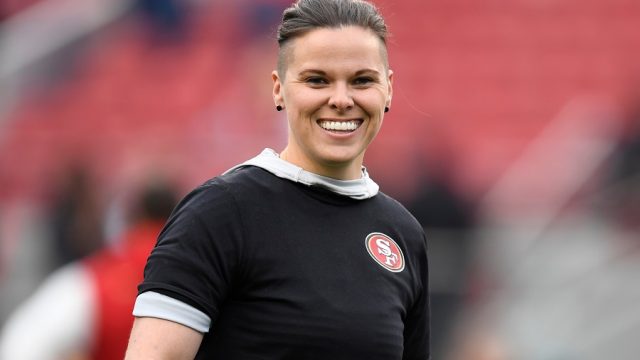 Though we see history in the making during every Super Bowl game, this year will be even more historic. San Francisco 49ers' assistant coach Katie Sowers will be the first woman to work with a Super Bowl-competing team and also the first open member of the LGBTQ+ community to do so.
According to USA Today, Sowers has worked with the Niners for two seasons under coach Kyle Shanahan. She joined the team in 2017 as part of the Bill Walsh Minority Fellowship, and she worked with wide receivers before stepping up to the assistant coach position.
Before joining the 49ers, Sowers was a member of the 2013 U.S. Women's National American Football team that won the International Federation of American Football World Championship, USA Today reports. She came out before the 2017 football season via Outsports, thus becoming the first openly gay coach in both NFL and men's pro team sports history.
And she's taking her historic title to new heights after helping the 49ers get to the Super Bowl.
In her 2017 post, Sowers talked about hoping to create a welcoming environment for all people.
"The more we can create an environment that welcomes all types of people, no matter their race, gender, sexual orientation, religion, the more we can help ease the pain and burden that many carry every day," Sowers told Outsports.
She also confronted the idea of football only being a "man's game."
"Society is so conditioned to this idea that football is a 'man's game,'" she continued. "I would have loved to see women in this role when I was growing up because I think it would have allowed me to follow my passion even earlier. If you can't see something happen, sometimes it's hard to believe it can. We don't know what we don't know, and I didn't know football was even a possibility for women."
Although she's the first to make it to the Super Bowl, Sowers isn't the first woman in an NFL assistant coach position.
In 2015, Jen Walter was hired as the training camp/preseason assistant coach for the Arizona Cardinals. And in 2016, Kathryn Smith became the first woman to be hired as a coaching assistant in the NFL when she joined as a Buffalo Bills special teams quality control coach.
Sowers is that beacon of light and a role model for any woman, LGBTQ-identifying person, or anyone who may not fit the traditional bill who dreams of a career in football, or male-led pro sports. We can't wait to see her run the field when the 49ers face off against the Kansas City Chiefs on February 2nd.