You won't even recognize Suri Cruise in Katie Holmes' newest Instagram pic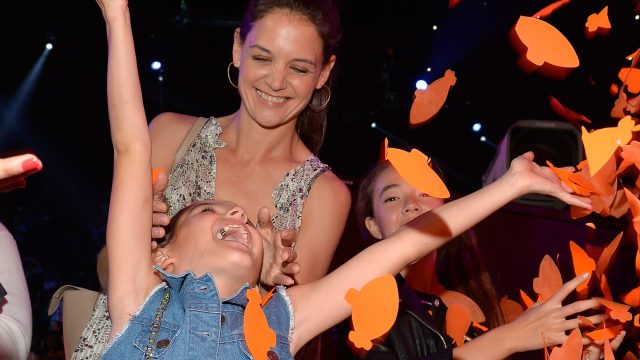 Ready to feel old, fam? Because Katie Holmes just shared a birthday photo with Suri Cruise, and the 10-year-old is basically becoming a mini-adult before our very eyes. (Doesn't the Oprah couch jump feel like it happened yesterday?!)
Holmes, who turned 38 on Sunday, December 18, posted two very rare snaps of her daughter with Tom Cruise celebrating her mom's big day — and holy crap, has she grown up. She basically looks like her dad's mini-me, though we totally see some of Holmes in her smile as well.
Holmes' Insta also reveals that they spent their Sunday bowling and eating yummy desserts, which basically means that Holmes and Suri are entering the Gilmore Girls phase of their mother-daughter relationship.
Hopefully this means we can look forward to even more adorable Holmes-and-Suri pictures in the near future, though Holmes has always kept her family life notoriously private. She did post a photo of Suri and a friend decorating cookies just last month, and back in September she shared some black and white shots that obscured her daughter's face, but most of the time she keeps Suri out of the limelight … and posting a selfie with the kid is downright unprecedented.
Holmes was also able to have some adult fun over her birthday weekend. US Weekly reports that Holmes and her boyfriend, Jaime Foxx, jetted off to Cabo San Lucas on Friday for a super brief celebration at a high-end resort.
Sounds pretty much like the best weekend ever, no?