Katie Holmes opened up about trying to give Suri the most normal life possible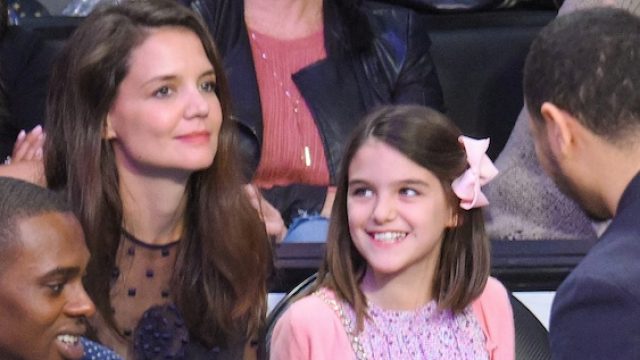 Raising children is hard enough when they're not in the spotlight, so we can only imagine the added pressures of maintaining a sense of normalcy for those who live very public lives. In the April issue of Town & Country, Katie Holmes opened up about motherhood and privacy. She admitted that — even though she loves acting and directing — raising Suri (who is now 10!) and giving her a normal childhood is absolute top priority.
She noted how lucky she is that her schedule allows her to choose the windows of time when she works and doesn't work, which helps her as a mother to Suri. "My child is the most important person to me, and her upbringing is paramount to my work right now. It's very important that I'm present and she has a stable, innocent childhood," Holmes said, adding that there's no better feeling in the world than watching your own child succeed.
Thinking about the stress of living their lives without the luxury of privacy, Holmes had a very healthy and direct approach.
"To experience something publicly and privately is a lot for a person to go through. In today's world a lot of celebrities probably shield their children from the tabloids; in my household we know what they print isn't true, so we don't pay attention. There are more important things. But it's very relatable to me; if people know who you are, they might write about you, and you can't control that."
It's true that you can't control the tabloids, and we love Holmes' simple solution of not paying attention and not letting the crazy buzz get to them.
She emphasized in the interview how she and her family often spend nights together where they enjoy "those moments with board games and normal stuff," and it really seems like both mother and her daughter are living the most normal life possible, given their situation.
Although Suri does look exactly like Katie, so there's that instant recognition.
We're interested to see what avenues Suri pursues when she's older, creative or otherwise, and in the meantime, it's clear that she has a very down-to-earth mom who values the important things in everyday life.