Katie Holmes posted a behind-the-scenes "Dawson's Creek" throwback, and it's painfully '90s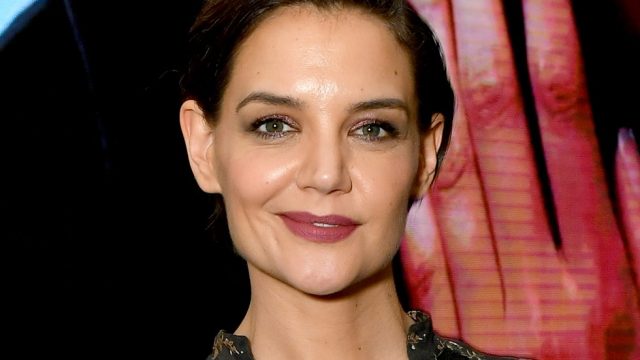 Even though she's had quite the career, Katie Holmes is still grateful for the Dawson's Creek years. It makes sense — prior to the show, her resume mostly included school productions. While she's said time and time again that she wouldn't necessarily be down for a Dawson's Creek reunion, she still thinks fondly upon the old DC days.
Proof? She just shared a rare photo of her posing with James Van Der Beek and show creator Kevin Williamson on Instagram for her more than a million followers.
Raised in Toledo, Ohio, Holmes started filming Dawson's Creek when she was only 19. Her mother was a homemaker and her father was a lawyer, according to a 1998 interview she did with Rolling Stone.
"I had the camera, and my mom would read Dawson's lines," she said, recalling her audition process. But when they asked her to fly out and test, she had to refuse — since it coincided with her high school play. "My dad said, 'Katie, these are your friends, and no matter what happens, you grew up here and your name means a lot here.'"
Williamson and the crew knew they couldn't let her go, so they managed to reschedule. And that's how we (thankfully) ended up with our iconic Joey Potter.
The picture Holmes shared was taken during the filming of the pilot episode.
https://www.instagram.com/p/BfhKqHPhW23
"#tbt when we were filming the pilot for #dawsonscreek it was such a magical time and I am forever grateful to all who were involved and all of our fans," she wrote.
She also noted that the photo was taken by Mary-Margaret Humes, also known as Dawson's mom. Humes shared a bunch of Dawson's Creek throwbacks as well, making us wonder if she's perhaps pushing for a reunion someday….
https://www.instagram.com/p/BfOQAboAPXv
https://www.instagram.com/p/Bfdlb4bgwzw
Both Humes and Holmes have made us realize that we'd do just about anything to get this cast back together!